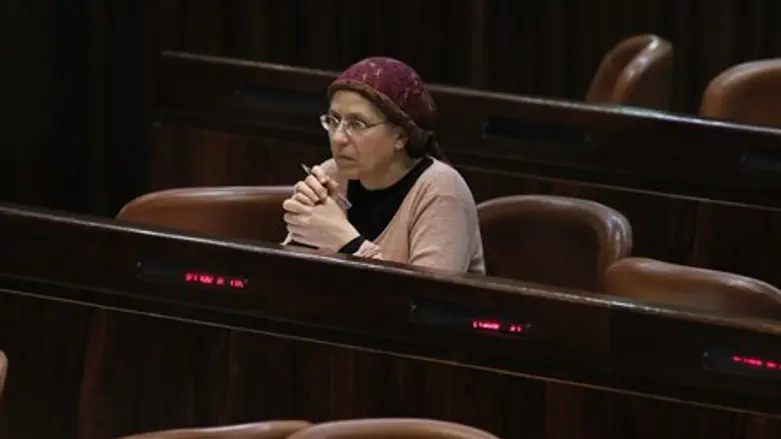 MK Orit Struk
Flash 90
MK Orit Struk (Jewish Home) spoke to Arutz Sheva on Tuesday, discussing the V15 (Victory in 2015) campaign which is bankrolled by foreign NGOs and includes a delegation of campaign staff from US President Barack Obama's campaigning organization - and which aims to prevent Binyamin Netanyahu's re-election as prime minister in upcoming elections.
"While the Zionist Camp (Labor-Hatnua joint party - ed.) says it has no connection to V15, it's clear that there's an organization here that is working to return the left to power," said Struk. "There's a large process here of haters of Israel in Europe and the US who are getting involved in political processes in Israel using a lot of money."
According to the MK, these foreign forces are feeding funds to organizations that "masquerade" as human rights groups, "like the radical leftist organizations 'Breaking the Silence,' 'B'Tzelem,' and 'The Association for Civil Rights in Israel,' and in this way try to get us out of Judea and Samaria."
"In the election days they're doing it with V15 to continue the withdrawal process that started in Oslo," said Struk.
Struk accused the legal and law enforcement sources of not doing enough, noting "former State Comptroller (Eliezer) Goldberg ruled in 2000 that it is illegal to form NGOs whose true goal is political."
"There is also a huge question mark over the chairman of the Central Elections Committee (Arab Supreme Court judge Salim Joubran - ed.) who didn't say it (the V15 campaign - ed.) is invalid," she added.
"After all there is European and American money here donated by anti-Semitic people whose goal is to influence the elections campaign," Struk emphasized. "Why is there no one to deal with this?"
Despite the V15 campaign, Struk reasoned that Israeli voters will not be influenced by its promotions, appraising "the public in Israel isn't stupid, they already learned since the New (Israel) Fund to check these NGOs, the public understands that there's a foreign and anti-Semitic hand here that wants to bring the left to power."
"But the public won't let that happen," she asserted. "The people of Israel's won't let that happen because the people of Israel are tired of the left."