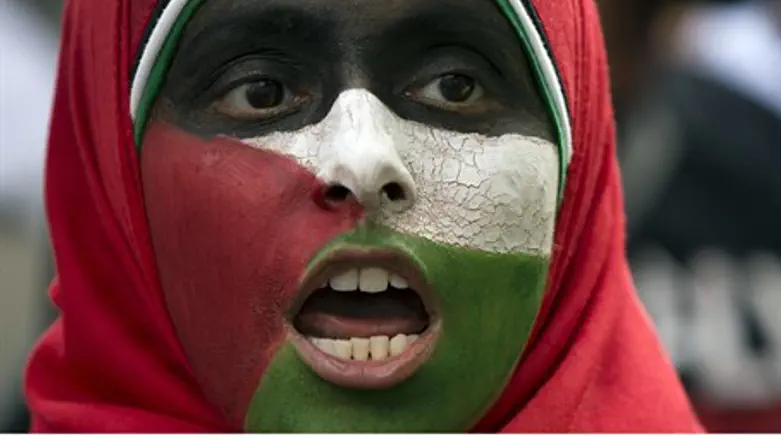 Anti-Israel protester (file)
Reuters
"Hamas has taken over UC Davis" wrote a student senator, after anti-Israel activists at the University of California, Davis, shouted "Allahu akbar" (Allah is greater) at Jewish students during a vote to boycott Israel that passed last Thursday evening.
The Jewish students took part in an attempt to counter the Boycott, Divestment and Sanctions (BDS) effort that has been rampant on American campuses.
As they left ahead of an eight to two vote in favor, activists waving flags of the Palestine Liberation Organization (PLO) terrorist group heckled them, as seen in a video received by the Washington Free Beacon from a pro-Israel student group on the campus, Aggies for Israel.
And then, mere hours after the vote that was championed by the openly pro-Hamas student group Students for Justice in Palestine (SJP), anonymous vandals defaced the Jewish AEPi organization's fraternity house, spraying swastikas on it.
"Our U.C. Davis AEPi fraternity house was tagged with two swastikas, coming 24 hours after the deeply troubling actions on campus coming from those seeking to delegitimize Israel and her people," leaders and alumni of AEPi said in a joint statement.
"Hamas is taking over"
But that wasn't all for the Israel bashing - U.C. Davis student senator Azka Fayyaz took to Facebook to gloat over the vote, posting a photo of the flag bearing activists and writing "Hamas & (Islamic - ed.) Sharia law have taken over UC Davis."
Shortly after praising the vote as a victory for the Gaza-based terrorist organization, she posted "if a movement is not controversial, if no one is mad, its [sic] not strong enough & it's not worth the fight. Israel will fall insha'Allah (Allah willing - ed.)."
Noah Pollak, executive director of the Emergency Committee for Israel that took part in the effort to fight the vote, said "BDS activism, anti-Semitism, swastikas, celebration of terror - these things are found together."
"The U.C. Davis administration should be deeply alarmed that a member of the student senate has openly endorsed Hamas, a US-designated terrorist organization whose charter calls for the murder of Jews worldwide," Pollak added.
That sentiment was echoed by Johanna Wilder, a StandWithUs Pacific Northwest campus coordinator.
"This demonstrates the dishonesty and hypocrisy of divestment campaigns on campus," Wilder said in response to the vote. "They claim to be about social justice and human rights, but this student senator's statement revealed SJP and the BDS movement's real agenda."
Wilder also pointed out that as "a racist group, Hamas is designated a terror organization by the US and many other governments and its charter is sworn to the destruction of the state of Israel."
U.C. Davis distances itself
In response to the wanton bashing of Israel and overt support of a terrorist organization, in addition to the anti-Semitic vandalism, U.C. Davis Chancellor Linda P.B. Katehi released a statement.
The vote "does not reflect the position of U.C. Davis or the University of California system," she said. "The investment policy for the University of California system, including U.C. Davis, is set by the U.C. Board of Regents."
"The Board and Office of the President issued a statement regarding student resolutions that urge the Board to divest from companies doing business with Israel," Katehi said. "The statement reiterates the Board's position that this type of call to action will not be entertained."
Regarding the student senator's comments, a spokesman of the university said "statements by individuals do not reflect a position of the university or the university community as a whole...U.C. Davis is built on a foundation of tolerance and inclusion, and we have an obligation to treat each other with respect and dignity even when we disagree."
The spokesman added that police are investigating the swastika vandalism, noting "U.C. Davis Student Affairs and U.C. Davis police have met with the fraternity to offer support and advice. It is being investigated as a hate crime."