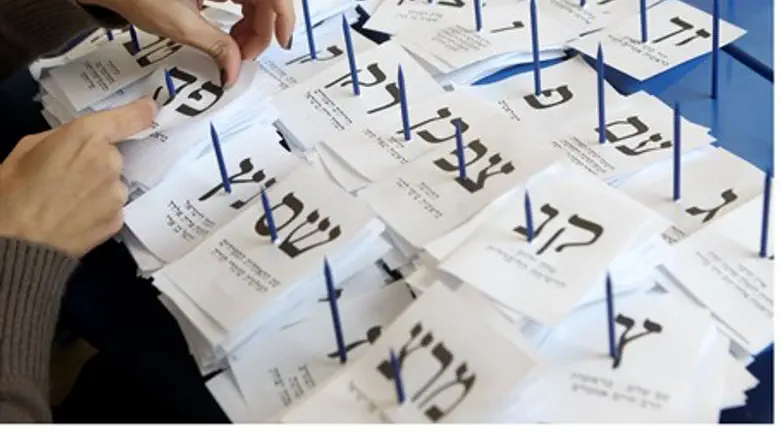 Knesset elections (illustration)
Miriam Alster/Flash 90
Labor-Hatnua is still in the lead with 25 seats, according to the latest elections poll.
The Camile-Fuchs organization poll for Channel 10 places Likud in second place with 23 seats - as has been consistent in polls throughout the week. 
However, there is a slight gain for Jewish Home, up to 16 seats instead of 15. 
The joint Arab list would garner 12 seats in the 20th Knesset, according to the poll, followed by Yesh Atid at 10 seats and Kulanu with 9. 
The hareidi parties follow next, with Shas and United Torah Judaism at six seats each. 
Support for the ultra-left and for Yisrael Beytenu has fallen dramatically - with Meretz at just five seats and Yisrael Beytenu at a mere four seats, barely passing the Knesset threshold. 
On the other end of the spectrum, Eli Yishai's Ha'am Itanu party is projected to pass the threshold at four seats, after weeks of failing miserably in polls. 
The survey also found that 44% believe that Prime Minister Binyamin Netanyahu is best suited to lead the country, compared to 32% who think that Labor leader Yitzhak Herzog is suitable for leadership.