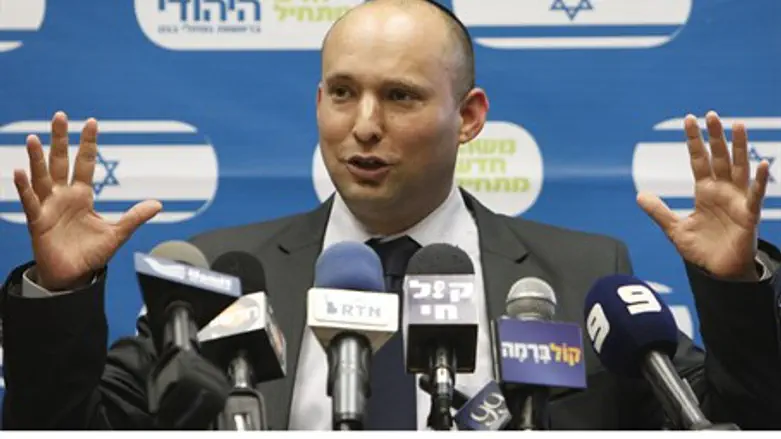 Naftali Bennett's party is polling strongly among younger voters too
Miriam Alster/Flash 90
Jewish Home party chairman Naftali Bennett has reacted to a storm of criticism over his decision to place ex-soccer star Eli Ohana in the party's number 10 slot for election in the 20th Knesset, saying the past day has been the toughest of his political career so far.
"I don't remember a day like this," Bennett told Arutz Sheva in an exclusive interview.
But regardless of that criticism - which has included the resignation of MK Zevulun Kalfa - the Economics Minister said he is confident the decision to include Ohana is the right one, and urged the religious-Zionist public to recognize the importance of reaching out to all sectors of the Israeli public and rally around his party.
"A party of 17 seats can't contain a single man like Ohana?" Bennett asked rhetorically, referring to polls showing the Jewish Home growing to be the third-largest following elections this coming March, and called on critics to engage in "reflection."
Bennett expressed his hope that in the 20th Knesset his party will be able to weigh into all national issues - including sports, culture and informal education, as well as the more "obvious" subjects such as social issues, religion and state, defense, and construction in Judea and Samaria.
He described the decision to include Ohana as a bold move for the party, while acknowledging it was not without risks. "But I suggest we take it into proportion and approve of this direction."
"It's like an organ transplant into a body that is still slightly rejecting it, but with time this will be a part of us," Bennett continued. "The day will come when we ask how it was that we didn't want him."
The Jewish Home leader pointed out that many among the religious-Zionist public initially opposed the inclusion of Ayelet Shaked - herself a secular Jew from Tel Aviv - into the party. Today, he noted, she is in fact its most popular MK with religious and secular party members alike, having come top in the recent primary elections - in great part due to her staunch defense of the party's religious-Zionist values during the 19th Knesset.
The Ohana saga is only the latest, if perhaps the most controversial, chapter in Bennett's ongoing struggle to reshape the Jewish Home party from a narrow sectoral faction into a party capable of governing the country, by appealing beyond its traditional narrow support base of "knitted kippa" religious-Zionists - a move he says can still be consistent with its fundamental religious-Zionist platform. His attempts to do so have been consistently criticized by some however, who claim that in so doing he is diluting the religious character of the party.
"I have no idea if this move will bring seats but I have no doubt that it will connect us to the people of Israel," Bennett insisted.
"They are accusing me of trying to change the DNA of the religious public, so yes I do want to change it and I am placing Ohana precisely because he is different. Ohana will be the one to open the door for us to the wider public."