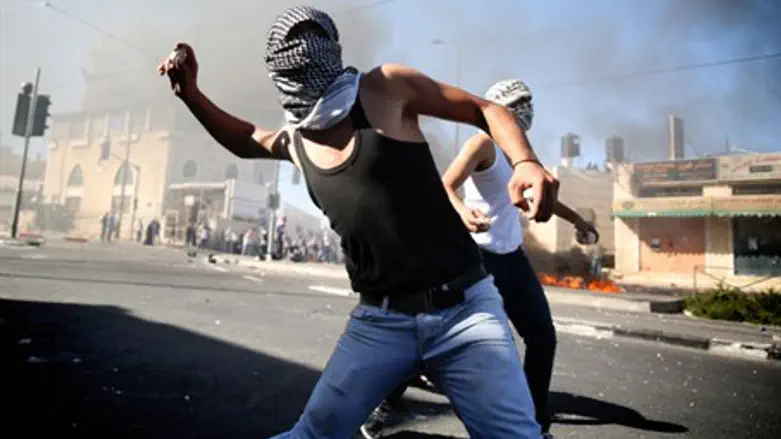 Arab rioters (file)
Flash 90
Several young Arab assailants armed with rubber straps, sticks and rocks entered the Hadar neighborhood in Haifa on Sunday, where they began beating passersby with the sticks and shouting "slaughter the Jew" in Arabic.
According to one of the testimonies from the attack, at around 11 p.m. the Arab youths arrived at Michael Street in the neighborhood and started threatening haredi residents on the street, with the sticks in their hands.
The haredi passersby fled from the threat of the Arab assailants, taking shelter in a Talmud Torah religious school, and from there they called up police forces who quickly arrived on the scene.
However, one of the residents who was coming home from a synagogue was less fortunate, as the Arab attackers began raining blows on him with the sticks and rocks.
Within minutes, police had arrested the attackers, and it became clear that they were minors. Police investigators from the Coastal District have opened an investigation into the circumstances of the attack.
Much of the Arab-on-Jew violence in Israel is carried out by minors, who cannot be prosecuted with the full force of the law. Legislation proposed by MK Danny Danon (Likud) and others calls for Arab minors who conduct rock throwing and other attacks to be penalized by having their parents lose state-funded child stipends.
"Parents must know that if they do not educate their children, they will receive fines and will not receive state funding. They need to understand that we are taking off the gloves," explained Danon.