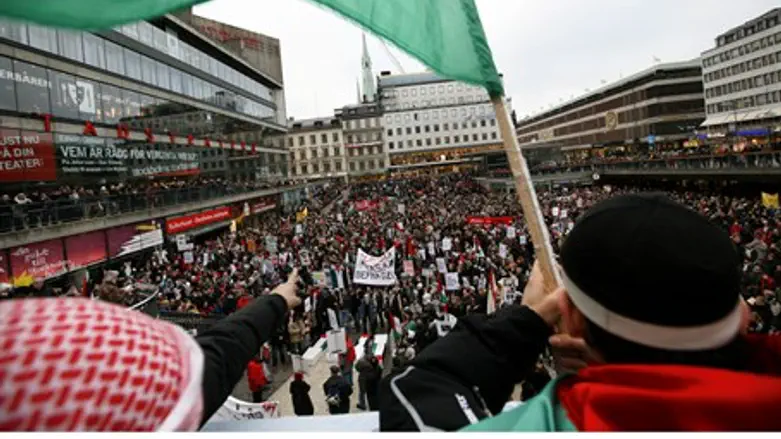 Anti-Israel protest in Stockhold, Sweden
Miriam Alster/Flash 90
Petter Ljunggren, a Swedish journalist looking to test attitudes toward Jews, was cursed and assaulted when walking through the city of Malmo wearing a yarmulke and a necklace with the Star of David. 
Footage of this, recorded secretly by Ljunggren, can be seen in the 58-minute documentary "Jew-Hatred in Malmo" which was broadcast Wednesday on Sveriges Television in Sweden. 
Ljunggren embarks on the undercover quest after one of the documentary's interview subjects explains what it is like to wear a yarmulke in Malmo. 
Shmuel Goldberg, a Jew originally from New York who runs a restaurant in Malmo, describes being spat at as well as shouts of "Jew!" and "Palestine" being regularly hurled his way. 
He also recounts almost being physically attacked by a man - an attack thwarted at the last moment by a woman who told him: "You're going to get killed if you wear a kippah here."
Ljunggren encounters similar treatment when he walks the streets in his own yarmulka and Star of David necklace. 
While most people at first have no problem with him he does attract attention - some of it extremely hostile. 
As Ljunggren sits at a cafe in central Malmo reading a newspaper, several passersby begin to hurl anti-Semitic insults his way. Later he sees a man beating his fist into his palm as a warning. 
Later Ljunggren travels to two different areas known to be anti-Jewish. In the first - Lindangen Center - a man, shocked to see a Jew in the area, warns Ljunggren to leave. As he does, he is called an "(expletive) Jew swine."  
In the heavily Muslim neighborhood of Rosengard, dozens of men hurled anti-Semitic slurs at Ljunggren while eggs were thrown at him from windows. 
Ljunggren notes in the documentary that most of the perpetrators of these anti-Semitic incidents and attacks in Sweden are Muslims of Middle Eastern descent using the Arab-Israeli context as a pretext for their anti-Semitism. 
The acceptance of hatred against Jews in Sweden is made clear, Ljunggren states. As one young Muslim interviewee puts it: "It's only basic to hate Jews."