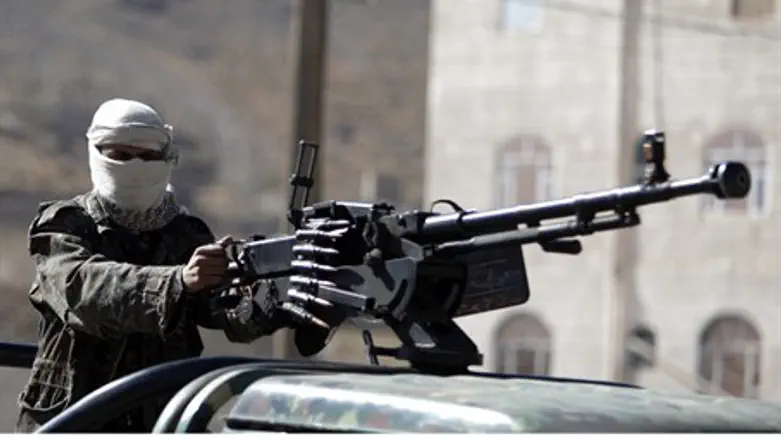 Yemeni police trooper in Sana'a (file)
Reuters
President Abd-Rabbu Mansour Hadi of Yemen resigned Thursday, according to government sources cited by the Associated Press.
Immediately prior to this, Prime Minister Khaled Bahah offered his government's resignation to Hadi, saying he did not want to be dragged into "an unconstructive political maze," a reference to the ongoing fighting between Hadi and Iranian backed Houthi rebels.
Hadi handed in his resignation one day after he and the Houthi rebels fighting him announced that they had reached an agreement to resolve the crisis gripping the country.
Bahah's government was formed in November as part of a UN-brokered peace deal after the Houthis overran the capital in September.
The United Nations (UN) Security Council on Tuesday condemned an attack by Houthi rebels on Yemen's presidential palace and voiced strong support for Hadi.
In a statement adopted by the 15 members and quoted by AFP, the council said Hadi "is the legitimate authority" and that "all parties and political actors in Yemen must stand with President Hadi, Prime Minister Bahah, and Yemen's cabinet to keep the country on track to stability and security."
The Houthis earlier on Tuesday besieged the presidential palace in the capital city of Sanaa where they have grabbed de facto control in recent months, and even opened cannon fire on the palace to force their demands to be met.
The Houthis threatened Hadi, demanding that he increase the Houthi Shi'ite minority's representation in the parliament, that he change the draft constitution proposed in recent days, and that he agree to let the Houthis expand their control into additional regions of Yemen.
They are aided by members of the presidential guard who are loyal to Ali Abdullah Saleh, who was president until being deposed in 2012.
Their fierce gunfights on Monday with the army forces loyal to the current president left nine people killed and 67 people wounded.