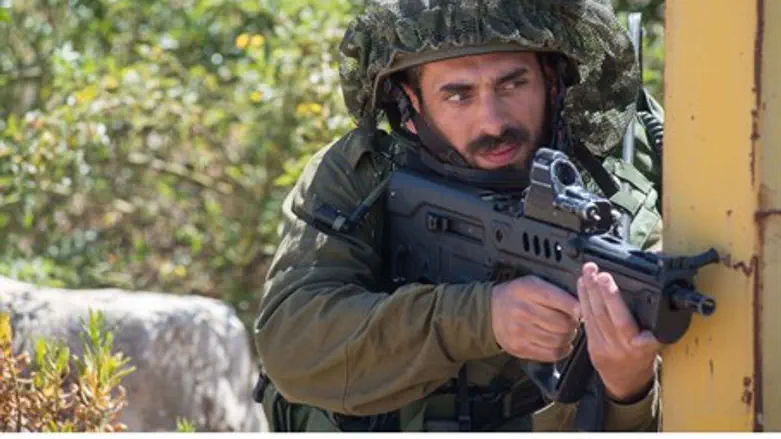 IDF soldier guards northern borders (file)
Ayal Margolin/Flash 90
Iran plans to continue its efforts to "destroy the Zionist entity" - and that includes arming terrorists in Judea and Samaria.
"The arming policy of the West Bank is one of the policies of Iran and we will use all our capabilities in this way," said Iranian Defense Minister Hossein Dehghan.
Dehghan made the comments at a memorial service for General Abu Ali Tabtabai, who along with Jihad Mughniyeh and a crew of Hezbollah terrorists, were eliminated in an Israel Air Force strike Monday. The vehicles in which the two were riding had left Lebanon a few hours earlier, Lebanese sources said. The purpose of the tour, the sources said, was to allow Tabtabai to review the situation on the border with the purpose of developing new attacks on Israel.
Commenting on the attack, Deghan said "The Zionist attack will not be passed over," and that Iran would take the "appropriate action" when it wished to.
Tensions remained high in northern Israel in the aftermath of the elimination of Mughniyeh, said to be Hezbollah's "commander of the Golan Heights area," and Iranian General Tabtabai.
Roads in the area of the Israel-Lebanon border have been closed, and tanks and armored personnel carriers were reportedly deployed along the northern border. Lebanese media outlets are reporting Israeli jets and helicopters over the Har Dov area along the Lebanese border.
Late Wednesday, the US issued a travel warning to American citizens and government personnel in Israel, citing the recent tensions along Israel's northern borders and the terrorist stabbing attack in Tel Aviv.
"Because of concerns about security on Israel's northern borders, U.S. government personnel are currently required to obtain advance approval if they wish to travel within 1.5 miles (2.4 kilometers) of the Lebanon border, or travel on or east of Route 98 in the Golan Heights," the advisory said.
"Further, in light of the stabbing attack on a public bus in Tel Aviv on January 21, U.S. citizens are reminded that due to security concerns, U.S. government employees are prohibited from using public buses throughout Israel and the West Bank (Judea and Samaria -ed.)," the statement added.
Despite the increased tension, residents have been urged to continue with their regular daily routines.
Giora Zeltz, chairman of the Upper Galilee Regional Council, said Wednesday that despite the large deployment of IDF troops and the increased police and border guard presence in the area, "we have not received any instructions to change our normal activities. The message we are getting from security officials is that life should continue as usual."
Zeltz said that IDF officials had given him three reasons for the increased vigilance: Besides concerns that Hezbollah will try to carry out revenge terror attacks against Israel - "for which we must be ready," he said - "the IDF is also sending a message to our neighbors that we will not tolerate attacks, and to give residents a sense of safety."