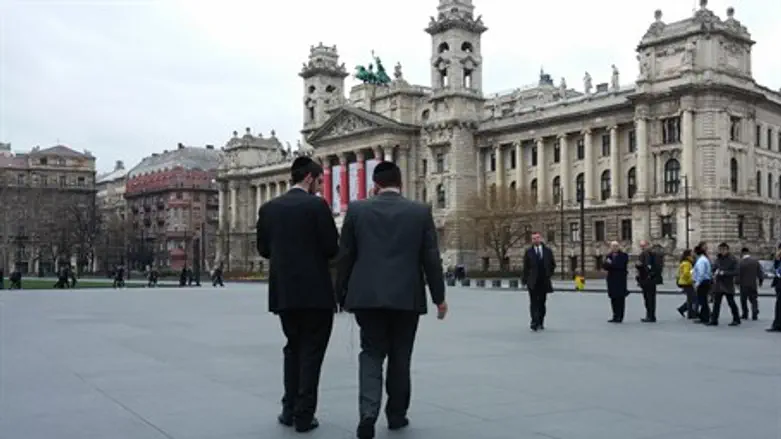 Jews in Hungary
Yoni Kempinski
Hungarian Jews and Soviet army veterans gathered on Sunday to commemorate the 70th anniversary of the liberation by the Red Army of the Budapest ghetto in World War II.
Several hundred people, including dozens who survived the ghetto, attended the memorial service in the Grand Synagogue, Europe's largest place of Jewish worship.
"Many would not be sitting here today if the Red Army had not arrived that day," Robert Frolich, the synagogue's chief rabbi, told the congregation.
"We celebrate our lives we got back on January 18, 1944" he added.
Two Soviet veterans who took part in the liberation also attended, while the Red Army's Alexandrov Ensemble choir gave a performance.
In a speech, Russia's Ambassador in Budapest Vladimir Sergeyev said some 50,000 Soviet soldiers lost their lives in the liberation of Budapest.
In November 1944, the fascist Arrow Cross party, installed in power by Nazi Germany the previous month, ordered Jews in Budapest into a closed ghetto in the city's seventh district.
Until the arrival of Red Army forces it housed up to 70,000 people in cramped and unhygienic conditions.
Thousands died due to starvation, disease, or the effects of the harsh winter.
"Dozens of us lay in a cellar resigned to death," 79-year-old survivor Vera Salgo told AFP Sunday.
"Then suddenly our door opened and there was a Russian soldier, asking if there were Germans inside," she said.
Hungary fought alongside Nazi Germany during the war as a member of the Axis, but Hitler ordered a takeover on March 19, 1944, when he discovered Budapest had started secret peace talks with the Soviet Union.
Some 600,000 Hungarian Jews perished during the Holocaust, most deported to Nazi death camp Auschwitz after the German occupation began.
Around 100,000 Jews remained in Budapest when the entire city was liberated on February 13, 1945.
Hungary's commemorations of the deportations were plagued by controversy over how to properly commemorate the Holocaust.
Many groups organizing commemorations refused or gave back funding from Prime Minister Viktor Orban's government, accusing it of playing down the Hungarian state's complicity in organizing the deportations, a charge denied by the government.
A program of events organized by the government to mark the 70th anniversary has been boycotted by Hungary's largest Jewish organization, Mazsihisz.
The organization says that Orban has presided over a rise in anti-Semitism in the EU member state and is seeking to rewrite history.
Orban has also been criticized for presiding over a rehabilitation of Hungary's wartime leader and Hitler ally until 1944, Miklos Horthy, who oversaw Jewish deportations and promulgated anti-Jewish laws before the Nazis took over.
In addition, anti-Semitism has been on the rise in Hungary in recent years, and most of it has been perpetrated by the openly anti-Semitic Jobbik party.
In November of 2012, one of Jobbik's members released a statement saying that a list should be compiled of all of the Jewish members of government.
He was followed by another Jobbik member who called publicly for the resignation of a fellow MP who claimed to have Israeli citizenship.
In September, a town mayor linked to Jobbik was filmed ordering the hanging of effigies of Israeli Prime Minister Binyamin Netanyahu and former president Shimon Peres in protest against the Gaza conflict.
In October, Hungarian Jews expressed concern when Jobbik became the second largest party in Hungary, after winning control of 14 cities and towns in local elections.
AFP contributed to this report.