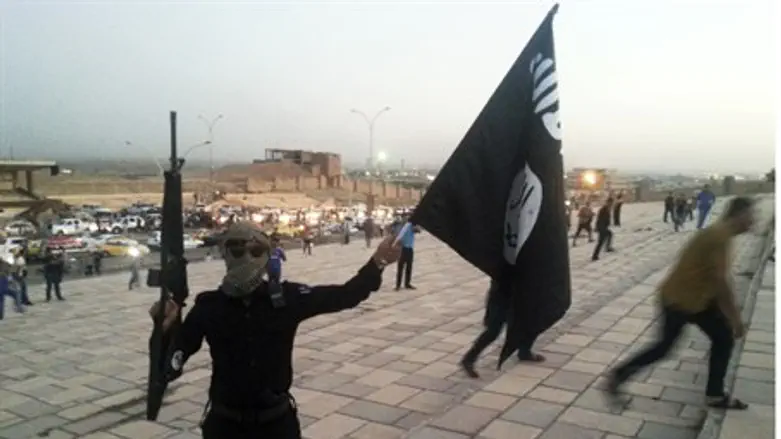 ISIS terrorist (file)
Reuters
The Israel Security Agency (ISA or Shin Bet) has arrested seven Israeli Arabs, residents of the Galilee, for setting up an official Islamic State (ISIS) affiliate branch in Israel, it was cleared for publication Sunday. 
The Shin Bet said that the seven admitted that over the last year they had formed a Salafi jihadi group, which they later aligned with ISIS. 
One of them also admitted to purchasing weapons to commit terror attacks on Israelis, specifically against the security establishment and the Druze community, in ISIS's name. Several more Galilee residents were arrested in this context. 
The seven have now been named as:
Adnan Jameel Said Al-A-Din, 40, from Nazareth; a lawyer by trade. 
Karim Morsal Khaled Abu Saleh, aged 22, from Sakhnin.
Hussam Aziz Hamdal Marsiat, aged 30, a resident of Deir Hanna and past terrorist prisoner. 
Alaa Mahmoud Khaled Abu Saleh, aged 27, from Beer Sheva; originally from Sakhnin.
Fadi Mohammed Salim Bashir, aged 29, a resident of Sakhnin.

Khaled 

Marsal Khaled Abu Saleh, aged 30, a resident of Sakhnin.
Mohammed Ibrahim Mohammed Abu-Saleh, aged 27, a resident of Sakhnin, a pharmacy intern by trade. 
All seven met with a senior Sheikh running anti-Israel terror groups in the north, who was not named in the report; the Sheikh encouraged them to form the jihadist group and carry out terror attacks. 
Meeting the group held included preparations to join ISIS in Syria, tutorials on how to make Molotov cocktails, and animal slaughter as "training" to slaughter "infidels" in jihadist attacks. 
In addition, the group was in touch with ISIS terrorists via social media, including with other Israeli Arabs who have left for Syria to join the group. In October, sources revealed that no fewer than 30 Arab citizens of Israel have joined ISIS; there is a move in the Knesset to revoke their citizenship.
Al-A-Din presented himself as an "ISIS representative in Palestine," according to the ISA, and operated as the ringleader of the group. Al-A-Din preached terror attacks against Jews specifically and ran much of the activities during meetings. 
Karim Abu Salah actually attempted to leave for Syria in July 2014 to join the jihad forces fighting there, but was turned away at the last minute by security forces after intelligence came in on his intentions, the ISA further revealed. Abu Salah then turned to Al-A-Din to make contact with ISIS in Syria and raise money for his departure. 
An indictment has been filed against all seven in the Haifa District Court, on suspicion of membership and activity in an unlawful association, supporting a terrorist organization and attempted contact with a foreign agent.
An additional man, Omar Musa Khalil Abu Kush, born in 1986, was also arrested in connection to the case. Abu Kush recently completed his medical studies at the University of Jordan Science and Technology (JUST). Abu Kush was arrested in November for attempting to join the Galilee cell; he admitted under interrogation that he supported ISIS and met with members of the organization in Jordan to discuss going to fight there. 
The indictment follows news earlier this month that an ISIS-inspired terror cell was broken up by the IDF in Hevron.