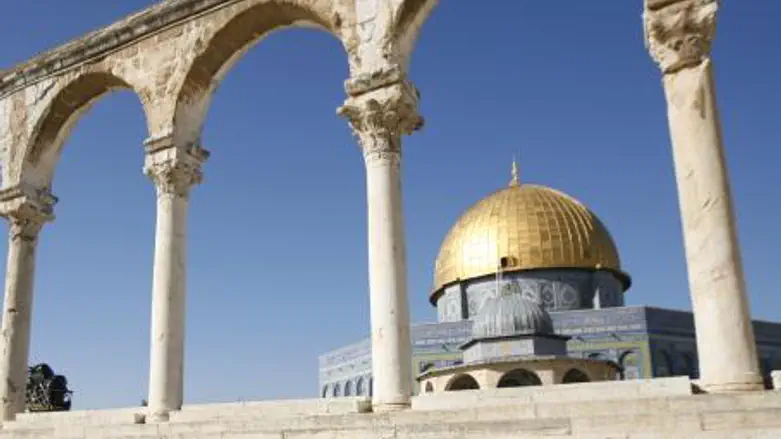 Temple Mount (file)
Flash 90
Nearly 200 Palestinian Arabs from Gaza were allowed by Israeli authorities to travel to Jerusalem on Friday to pray at the Al-Aqsa Mosque, the Bethlehem-based Ma'an news agency reported.
According to the report, a group of 185 Palestinian Muslims left the coastal enclave via the Erez crossing into Israel for an exceptional visit to the Al-Aqsa Mosque.
Sources at the Palestinian liaison office told Ma'an that no Gazans had been able to pray in the Al-Aqsa Mosque last week because the Palestinian liaison office had suspended work after a dispute with Hamas security services.
On October 5, some 500 Palestinians in Gaza prayed at the mosque for the first time since 2007, having been prevented by Israel from traveling to Jerusalem since that time.
The decision to allow Gazans to travel to Al-Aqsa was reached part of the Egyptian-brokered ceasefire that ended Israel's counterterrorism Operation Protective Edge in Gaza last summer.
Arab rioters have already been attacking police officers and Jewish visitors to the Temple Mount, the holiest site in Judaism, on a regular basis. It has been revealed that Hamas has been actively fanning the violence and funding riots on the Temple Mount to create instability in Israel. 
While Arabs are allowed to freely worship on the Temple Mount, Jewish visitors face severe restrictions upon ascending the Mount, including a blanket ban on praying or on performing any other form of worship, as well as restrictions on the size of groups which can ascend.
Police sometimes close the Mount to Jews altogether in response to Muslim riots - for days or weeks at a time - despite evidence that such violence is usually planned in advance for the specific purpose of forcing Jews out.
(Arutz Sheva's North American desk is keeping you updated until the start of Shabbat in New York. The time posted automatically on all Arutz Sheva articles, however, is Israeli time.)