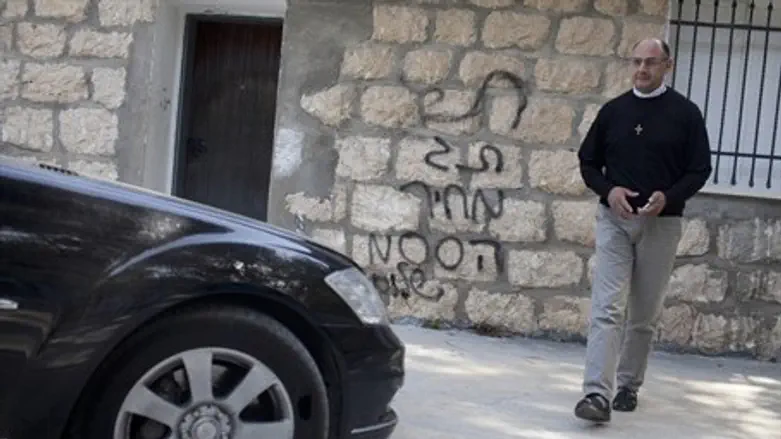 "Price tag" graffiti outside Jerusalem (file)
Flash 90
Vandals slashed the tires of 11 cars in an Arab neighborhood of Jerusalem early on Wednesday, a police spokeswoman said, in a suspected "price tag" attack.
"The tires of 11 cars belonging to (Arab) residents of Beit Safafa were punctured overnight," Luba Samri said in a statement.
One of the cars was spray-painted with a technical phrase linked to the army's eviction of Jews from their homes in Judea and Samaria, implying that Jewish extremists may have been the perpetrators. 
"Price tag" is a euphemism for vandalism and other forms of criminal damage committed against Arab property by Jewish extremists, usually in revenge for terrorist attacks but sometimes also in response to the eviction of Jews by security forces.
On a handful of occasions, however, Arab provocateurs have also staged such attacks to provoke a response by authorities against neighboring Jewish communities. 
Earlier this year, a resident of Samaria documented local Arabs cutting down olive trees and painting "price tag" graffiti on the severed trunks.
However, Wednesday's attack does surface in the same neighborhood as an anti-Arab attack confirmed to have been carried out by extremists: the arson of a bilingual Arabic-Hebrew kindergarten six weeks ago. Three members of the Lehava anti-assimilation group have been charged in that incident.