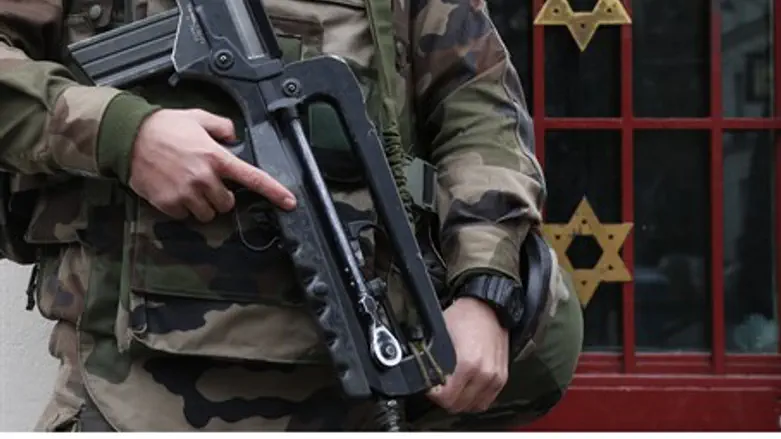 French soldiers guard a Jewish institution in western Paris.
Reuters
A prominent European rabbi has called on governments to relax gun-licensing legislation to allow Jews to carry firearms for self-defense, following last week's deadly Paris attacks and amid rising anti-Semitism on the continent.
Rabbi Menachem Margolin wrote to the governments of all EU-member states urging a change in the law to allow special gun permits for Jews at risk.
In the letter Rabbi Margolin, who is director general of the Rabbinical Centre of Europe (RCE) and the European Jewish Association (EJA), wrote: 
"We hereby ask that gun licensing laws are reviewed with immediate effect to allow designated people in the Jewish communities and institutions to own weapons for the essential protection of their communities, as well as receiving the necessary training to protect their members from potential terror attacks."
In a statement to Newsweek, which obtained a copy of the letter, Rabbi Margolin added that he believes that "as many people within the Jewish community as possible" should carry weapons.
His call, he says, is a result of the clear failure of European governments to protect their Jewish communities. The letter was sent less than a week after four shoppers were gunned down by ISIS terrorist Amedy Coulibaly at a kosher supermarket on Friday, in what was just the latest in a string of deadly attacks against European Jews by Muslim extremists.
French Jews have been particularly targeted by Islamist violence. In 2012 Al Qaeda-linked terrorist Mohammed Mera murdered three children and a rabbi at a Jewish school in Toulouse; that, along with several other anti-Semitic murders - including that of Ilan Halimi, who was kidnapped and tortured to death by a Muslim gang - has left France's Jews feeling utterly abandoned by their government.
But other European Jewish communities have also been attacked in recent years, for example last year in Belgium, where an ISIS terrorist murdered four people at the Jewish museum in Brussels.
And the problem is wider still, with near-daily incidents of "lower-level" anti-Semitism - ranging from violent assaults to graffiti and arson, to threats online - are being reported throughout the continent. In particular, last summer saw an unprecedented spike in anti-Semitism in Europe, as extremists used the 50-day war between Israel and Gazan terrorists to whip-up Jew-hatred.
Warning of the threat posed by "home-grown" jihadis in Europe, Rabbi Margolin continued: "We need to recognize the warning signs of anti-Semitism, racism, and intolerance that once again threaten Europe and our European ideals.
"Right now Jews do not feel safe... We are threatened on a daily basis," he added. "People are afraid to come to synagogue. People are afraid to go to Jewish schools."
"[The police] are not doing enough, for sure. We just need more. The best solution is having at least two police officers at each Jewish institution, 24 hours a day. Until that happens we need to be able to feel secure in other ways."
France has taken steps following the attacks to secure Jewish institutions, deploying some 5,000 security force personnel to protect Jewish schools from attack. But many French Jews fear it may not be enough to protect them in their day-to-day lives.
Rabbi Margolin cautioned that he was not calling for Jews to arm themselves illegally, but for governments to take steps to allow them to protect themselves within the law so that they can "feel protected."
"It would be completely controlled in the most professional way."
"Even just a gun. I'm not referring to tanks, it's not about heavy weapons. It's just that everyone would have something in their pocket."