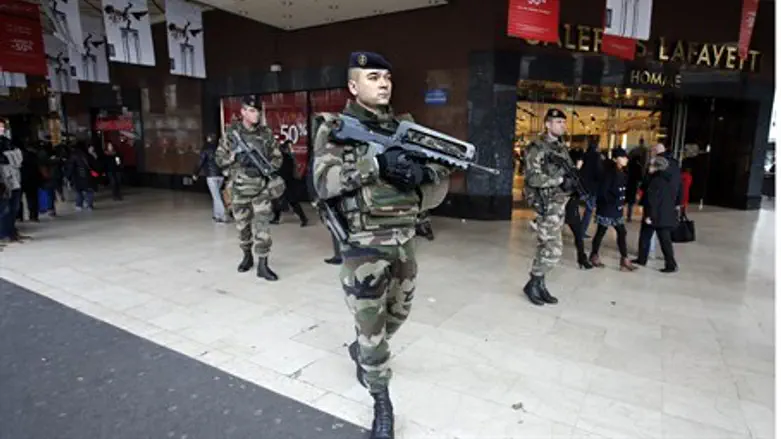 French soldiers deployed in Paris
Reuters
EU and US security ministers met at France's interior ministry on Sunday to work out a joint response to the threat of jihadist attacks following days of carnage in Paris by three terrorists claiming to act on behalf of Al-Qaeda and the Islamic State (ISIS) group.
The gathering was being held just hours ahead of a massive public rally in Paris against terrorism that was to be attended by dozens of world leaders.
US Attorney General Eric Holder was the first to arrive at the interior ministry. The interior ministers and senior officials from many European countries, including Israel, Britain, Germany, Spain, Italy, Poland, Denmark, Sweden and Canada were to attend.
A US Justice Department official said ahead of the meeting that it "will include discussions on addressing terrorist threats, foreign fighters and countering violent extremism."  
The ministerial-level meeting was convened by French Interior Minister Bernard Cazeneuve, who was at the forefront of this week's response to a series of attacks and hostage-takings by the three French Islamist gunmen.
On Wednesday, two of the gunmen, brothers of Algerian descent, Cherif and Said Kouachi, massacred much of the staff of the Paris satirical weekly Charlie Hebdo.
As a massive manhunt was under way for them, the next day another gunman, Amedy Coulibaly, who was connected to the other two, killed a policewoman in a southern suburb of Paris.
Events came to a head on Friday when the brothers were trapped in a printing firm near Paris, and Coulibaly stormed a Jewish supermarket in the capital, killing four inside.
Twin assaults by French commandos resulted in the deaths of the three gunmen.
Before their deaths, Cherif Kouachi and Coulibaly spoke to a French television channel, BFMTV. Kouachi said he was part of Al-Qaeda in Yemen, and had traveled to Yemen in 2011 for training, while Coulibaly claimed he belonged to a rival jihadist outfit, the Islamic State group, but had coordinated his attacks with those of the brothers.
The French government has admitted to shortcomings in its surveillance of the gunmen, who had criminal records and were known Muslim radicals.  
Sunday's meeting was expected to address ways in which Western countries can head off future such jihadist violence on their soil.
The German newspaper Bild said Sunday that US intelligence had intercepted communications in which Islamic State leaders said the Paris attacks were just the prelude for a wave of Islamist violence in Europe.  
It also reported that the Kouachi brothers had contacts in The Netherlands.
Paris was placed on its highest level of alert for terror attacks after Wednesday's Charlie Hebdo massacre, and authorities are maintaining that for the time being.
French President Francois Hollande warned on Friday, in a speech after the three gunmen were killed, that his country "has not finished with the threats" from jihadists.
He called for the public to remain vigilant in the face of the threat, and for a broad mobilization to counter it, and telling French Jewish leaders his government was prepared to protect Jewish schools and synagogues with soldiers if necessary.