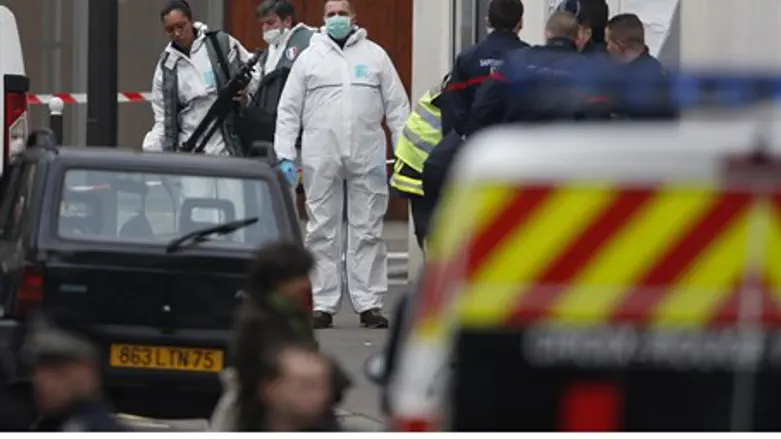 Aftermath of terror attack on Paris offices of Charlie Hebdo
Reuters
French law enforcement officers have been told to delete their social media accounts and to carry their weapons at all times because terror sleeper cells have been activated over the last 24 hours in the country, a French police source who attended a briefing Saturday told CNN.
According to the report, Ahmedy Coulibaly, who attacked the kosher supermarket in Paris and took hostages, had made several phone calls about targeting police officers in France before he was killed.
The alert came amid word that the lone remaining suspect wanted in connection with the France terrorism spree - Hayat Boumeddiene - entered Turkey on January 2, a Turkish prime ministry source told CNN.
Boumeddiene was tracked by Turkish authorities to a location near the Turkey-Syria border, according to an official in the Turkish Prime Minister's office.
Boumeddiene arrived at the Istanbul airport on a flight from Madrid with a man. During routine screening of passengers, the couple were flagged by Turkey's Risk Assessment Center and a decision made to maintain surveillance on their movements, the official said.
The official in the Turkish Prime Minister's office would not elaborate as to when Boumeddiene was tracked to the border province.
That means Boumeddiene may not have been in France at the time of Thursday's deadly shooting of a policewoman in Paris, as authorities originally believed. Authorities offered no immediate explanation of the discrepancy, but have said she is wanted in connection with a terrorist attack.
Investigators in France and the United States have been looking for evidence tying the Kouachi brothers, who carried out the attack on the Charlie Hebdo newspaper and who were killed in a separate police raid on Friday, to associates in terror networks such as Al-Qaeda's Yemen affiliate and the Islamic State (ISIS).
CNN reported on Thursday that one of the two brothers recently spent time in Yemen associating with Al-Qaeda in that country.
An American official said the United States was given information from the French intelligence agency that Said Kouachi traveled to Yemen as late as 2011 on behalf of the Al-Qaeda affiliate there.
A Yemeni journalist and researcher, Mohammed al-Kibsi, told CNN that he had met and spoken with Said Kouachi in Yemen in 2011 and 2012.
Before he was killed by French security forces on Friday, Coulibaly told a French station that he belonged to ISIS.