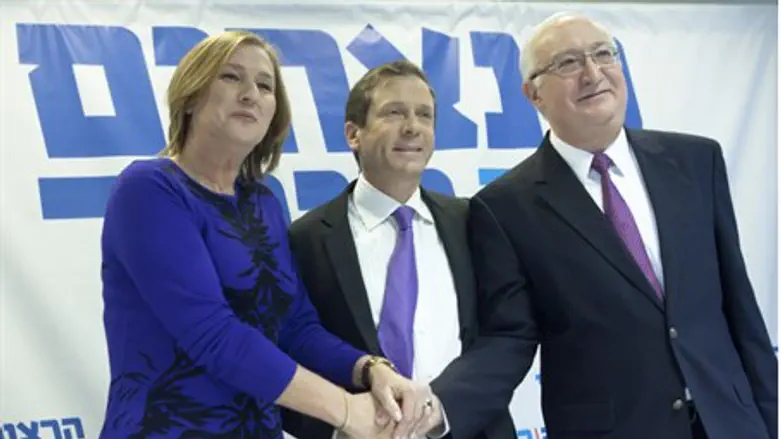 Livni and Herzog introduce Trajtenberg
Amir Levy/Flash 90
Professor Manuel Trajtenberg, who headed a special committee appointed by Prime Minister Binyamin Netanyahu to examine complaints by protesters during the social protests of summer 2011, on Wednesday officially joined the Labor-Hatnua list for the March 17 elections.
In a special news conference in which they introduced Trajtenberg, MKs Yitzhak Herzog and Tzipi Livni declared that Trajtenberg will be Finance Minister in their future coalition. Trajtenberg is expected to be placed somewhere between the 10th and 20th spot on the joint Labor-Hatnua list.
"We agreed, Tzipi Livni and I, that Trajtenberg is a leader in the socioeconomic field and is our candidate for Minister of Finance when we will establish the government," said Herzog.
"It is appropriate that Israel's economy - which most affects each citizen - will be in the hands of an experienced and visionary person," he added.
Trajtenberg, said Herzog, "joins us with a socioeconomic concept which places the citizen at its center, understands that the state should go back and take responsibility for its citizens on areas such as welfare, education and health, sees the business sector as a partner and not an enemy, looks at the needs of citizens and initiates long-term solutions rather than sweeping problems under the rug."
Herzog further stated that Trajtenberg "will bring a solution so that purchasing an apartment in Israel will not be a distant dream, together we will bring a solution to the cost of living that has not been addressed since the social protests."
Speaking at the same news conference, Trajtenberg criticized past governments over their neglecting the rising cost of living in Israel.
"Past governments have failed in addressing the number one problem - the housing problem, which has only worsened, and also did not provide a response to the cost of living and abject poverty rate, to the major gaps and to the low labor maturity which also causes wages to go down," he stated.
The Trajtenberg Committee, as the 2011 panel came to be known, recommended a long list of reforms in taxation, construction, reducing the defense budget, increasing minimum wage levels, instituting state-mandated pensions, and a slew of other issues, some of which have been adopted, and others that are still being discussed by the Knesset.
Trajtenberg recently warned that young Israelis' frustration with the high cost of living in Israel was a "real threat". He was recently also reportedly in talks to possibly join Moshe Kahlon's Kulanu party, but eventually settled on joining Labor.