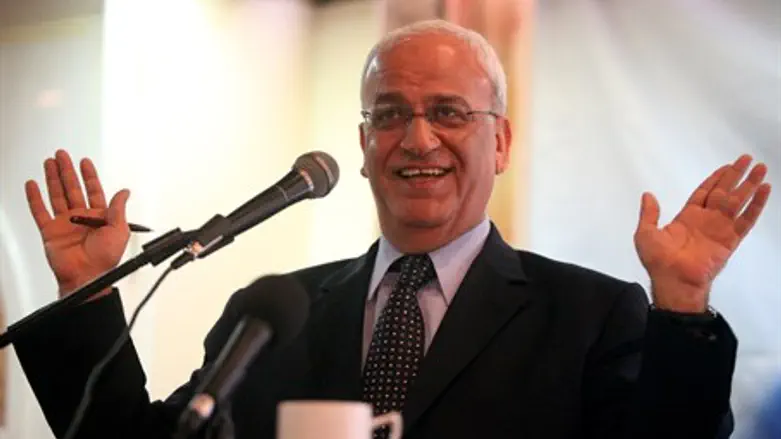 Saeb Erekat
Abir Sultan/Flash 90
The Palestinian Authority's (PA) chief negotiator, Saeb Erekat, said on Friday that the United Nations (UN) Security Council would vote on the PA's resolution calling for Israel to "end the occupation" later Friday or on Monday at the latest.
According to a report on Kol Yisrael government radio, Erekat said that some revisions have been made to the original text of the resolution in recent days. The final wording has not yet been made public.
The original text of the draft resolution calls for Israel to "end the occupation" - that is, to withdraw from Judea and Samaria - by 2017.
The draft resolution would set a 12-month deadline for wrapping up negotiations on a final settlement and the end of 2017 as the time frame for completing an Israeli withdrawal from Judea and Samaria.
That text, however, was unacceptable to several countries, including Luxembourg and France, and diplomatic sources estimated this week that the vote on the unilateral resolution is likely to be postponed because of those countries' objection to the text.
Erekat had indicated on Tuesday that he believed the Security Council would vote on the resolution even before the end of 2014.
On Thursday, Russia said it intends to support the draft resolution.
Russian Deputy Foreign Minister Gennady Gatilov said his country "would like to see a text that will satisfy all the 15 members of the UN Security Council and be truly oriented towards practical results, such as the Palestinian-Israeli settlement, the beginning of the negotiating process and the resolution of all problems."
"In our opinion, it is important that all members of the Security Council support it [this resolution]," stressed Gatilov.
Even if the resolution passes the vote at the Security Council, it is presumed that the United States would veto it.
While Secretary of State John Kerry has not publicly stated that Washington would use its veto against the resolution, his spokeswoman said last week the United States will not support the resolution.
Washington has seen the text of the draft resolution and "it is not something that we would support," State Department spokeswoman Jen Psaki said. "We think others feel the same and we are calling for further consultations. The Palestinians understand that."
(Arutz Sheva's North American desk is keeping you updated until the start of Shabbat in New York. The time posted automatically on all Arutz Sheva articles, however, is Israeli time.)