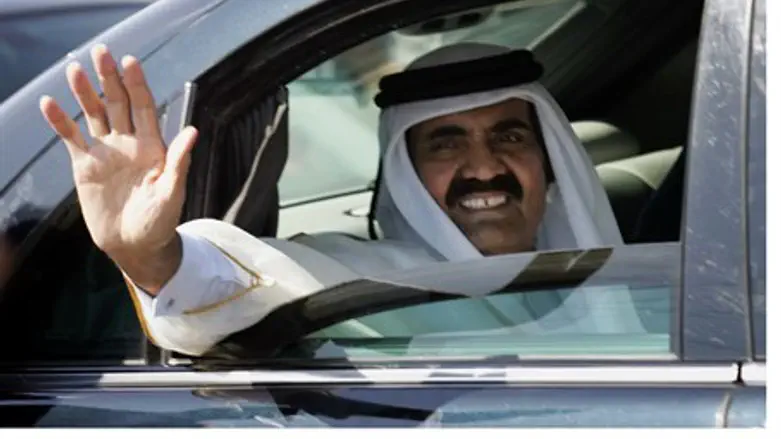 Qatari Emir Sheikh Hamad bin Khalifa al-Thani in Gaza (file)
Abed Rahim Khatib/Flash 90
Reports in a Kuwaiti paper Friday morning indicate that Qatar has temporarily cut its funding for the Gaza-based Muslim Brotherhood-offshoot Hamas terrorist organization, in an attempt to cull favor with Egypt and lead to rapprochement between the two rival nations.
The report in Al Jarida cited a senior Egyptian source saying that Qatar has informed Hamas leaders that it will temporarily stop its support of the group to press it to make several concessions that will aid ties with Egypt, which has been cracking down on Muslim Brotherhood.
Those concessions include a cessation of Hamas's antagonistic policy towards Egypt, incitement against Egypt, and an end to transferring weapons to Islamic terrorist organizations in the Sinai Peninsula.
In return, Hamas asked that Qatar serve as an intermediary between it and Egypt so as to reduce the tensions between the two, according to the Egyptian source; the reports have yet to be officially confirmed.
Hamas reportedly supplied the weapons used in lethal attacks on Egyptian soldiers in Sinai last October, which led Egypt to expel Gazans in establishing a wide buffer zone on the Gaza border with Sinai that has severely impacted Gaza.
Meanwhile Qatar has been taking active steps to solidify improved relations with Egypt, after years of tension due to Qatar's support of Muslim Brotherhood.
As part of those steps of rapprochement, Qatari-owned Al-Jazeera news network on Monday shut down its Egypt channel, easing a source of tension as Egypt has accused the news source of being a mouthpiece for the Muslim Brotherhood.
Just two days earlier, a Qatari envoy met with Egypt's President Abdel-Fattah al-Sisi, the first such meeting since he was elected in June.
Al-Sisi's office said Egypt hoped the meeting, which was attended by a Saudi royal envoy, was the beginning of a "new era" that puts the past disagreements between the two countries behind.
"The Kingdom of Saudi Arabia has expressed its welcome regarding ongoing steps that will strengthen relations between the Arab Republic of Egypt and the State of Qatar, including the visit made by Special Envoy of the Emir of Qatar Sheikh Mohammed bin Abdelrahman Al Thani to Egypt," read a Saudi Royal Court statement after the meeting.
"Saudi Arabia stressed its support and keenness on opening a new page between the two countries for enhancing integration and cooperation between the two countries to achieve higher interests of the Arab and Islamic nations, hoping of all honorable scientists, intellectuals, writers and men of the media outlets responding and supporting this step," it added.