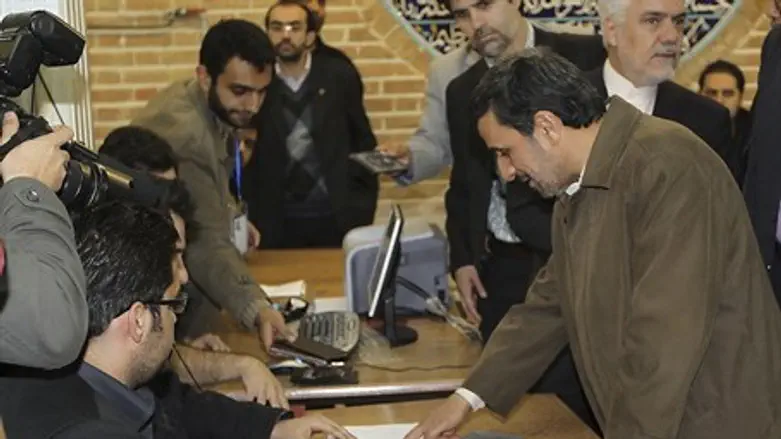 Lion's Gate in Jerusalem's Old City
Reuters
Two Jewish Border Police officers were stabbed and lightly wounded on Friday morning at a police security point near the Lion's Gate in the Old City of Jerusalem.
The attack occurred right after Muslim morning prayers concluded on the Temple Mount with Muslims leaving the site in large numbers; it remains unclear if the attacker came from the Temple Mount or from alleyways in the Old City.
One of the policemen, 19, was wounded in his neck. Then the second one, 35, was wounded in his hand while trying to apprehend the stabber. The two were evacuated to the Shaarei Tzedek Hospital in the city.
The attacker fled the scene. Security forces are searching for him.
Jerusalem District Police Chief Moshe Edri arrived at the scene of the attack, and said "this is a serious incident of an attack on officers, the Jerusalem police will act and put its hand on the terrorist."
Relating how the incident unfolded, Magen David Adom (MDA) paramedic Chaim Heimsoun said, "When we reached the site we saw two wounded who were fully conscious and walking around, one around 19 with a wound on his head and the second wounded in the hand. We gave them first aid at the scene including stopping the bleeding and bandaging, and evacuated them to the hospital in light condition."
Friday morning's attack follows Thursday evening's firebomb attack near Ma'ale Shomron, in which 11-year-old girl Ayala Shapira, was seriously injured.
Ayala was driving in a car with her father, Avner, on the access road to the new community of El Matan when they were attacked by Arab terrorists who threw a firebomb at his vehicle.
The two suffered burns, but managed to escape from their burning vehicle. They were treated on the scene by Magen David Adom rescue workers and taken to the Tel Hashomer Hospital. The father is in light condition.