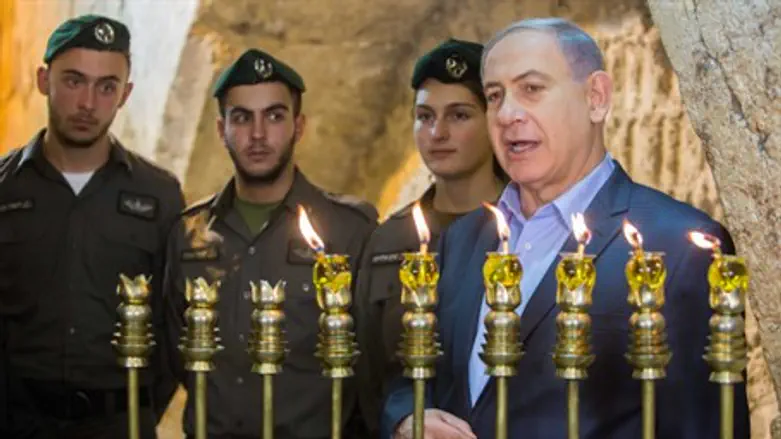 Netanyahu speaks at candlelighting ceremony
Yonatan Sindel/Flash90
Prime Minister Binyamin Netanyahu and Defense Minister Moshe Ya'alon addressed the IAF's strikes on Gaza on Saturday night, noting that it was response to a rocket fired at Israeli civilians on Friday that struck the Eshkol region. 
Ya'alon, speaking at a candle lighting event for IDF soldiers at the Western Wall (Kotel), said the target was a concrete factory being used to repair terror tunnels in and out of Israel, dozens of which Israel destroyed during the summer campaign.
The attack was "an unequivocal message to Hamas that we will not tolerate a return to a routine of sporadic firing at our citizens," he said.
 
"We hold Hamas responsible for what happens in Gaza, and will act forcefully against it if it won't prevent attacks at Israel," he added.
Netanyahu declared that he would not overlook a single rocket fired at Israeli civilians. 
"Israel's security comes first and I will not overlook even one rocket fired at Israelis," Netanyahu said. "The Air Force responded by firing on a concrete plant which was used to rehabilitate terror tunnels destroyed in Operation Protective Edge."
"Hamas will be held responsible for any escalation to come," he warned. "We will guard Israel's security."
The IAF strike was the first since Operation Protective Edge in Gaza ended in August. 
The strike also follows a Reshet Bet report confirming that Hamas has, indeed, been rebuilding the terror tunnels into Israel using UN and NGO aid money after weeks of speculation. The IDF refused to comment on the report hours before the strike.