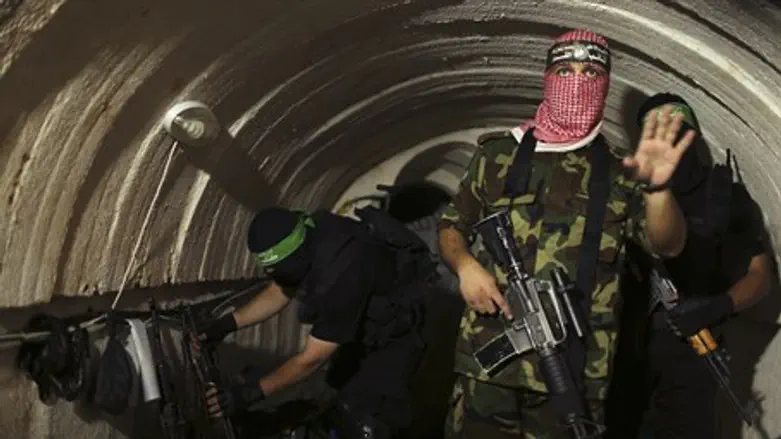 Hamas terrorists inside Gaza "terror tunnel"
Reuters
There is clear evidence that Hamas has begun rebuilding its terror tunnels into Israel using international aid, Gal Berger from Reshet Bet reports Friday. 
According to Berger, Hamas is not building new tunnels, but rebuilding the tunnel system destroyed during Operation Protective Edge in Gaza over the summer. 
Palestinian Arab sources told the station that cement and building materials have been transferred to Gaza for its "rehabilitation" recently and that those materials, specifically, are being used to rebuild the tunnels. 
Meanwhile, weapons production in Gaza has continued as well, but Hamas has allegedly not restocked its inventory of rockets since the operation. 
The IDF Spokesperson's Office declined Arutz Sheva's requests for comment.
Evidence surfaced in November that Hamas had already begun to rebuild the tunnels despite the IDF's pummeling the region during Operation Protective Edge. 
Days later, Hamas threatened another war if Gaza was not "rehabilitated" from the war - raising concerns that the group would launch another war in any event using UN and other aid money, as well as materials, to build terror tunnels into Israeli territory with the aim of attacking Israeli citizens in lieu of reconstruction.