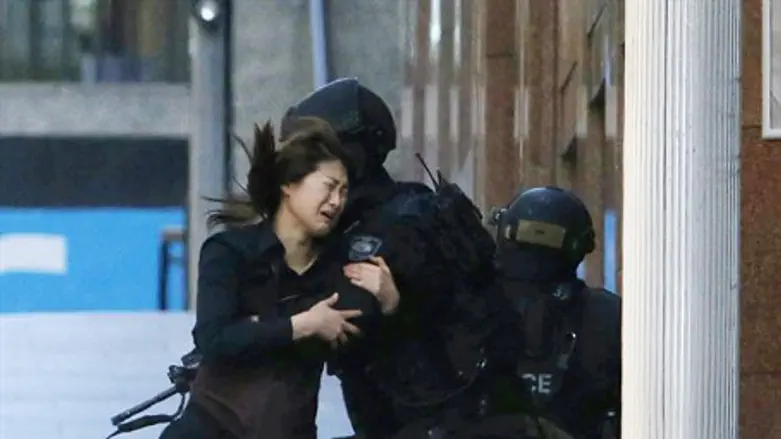 A hostage runs towards a police officer outside Lindt cafe, where other hostages are being
Reuters
Police have now stormed the cafe in Sydney where a radical Muslim cleric has held tens of people hostage, according to live footage from the scene - and New South Wales Police have now officially declared the siege "over." 
Loud gunshots and the ring of flash-bang grenades were heard and the windows broken after several more hostages escaped the cafe. Police are now bringing more and more people out. Some are wounded. (Update: 5:18 pm IST) 
More gunshots have now been heard; a fire alarm blares senselessly in an adjacent building. At least one of the hostages has been hit and is being seen carried out by police.
Police appear to be doing CPR; the injured is confirmed to be a female hostage, possibly in her 40s. Fire and ambulance crews have arrived to help with the exodus; several of the injured were transported to Royal North Shore Hospital. 
Four to five have been injured, multiple news sites now reporting; Channel Seven News, the offices of which are across from the cafe, is reporting that two to three people may also be dead.
Reports are circulating quickly on social media that the gunman was one of two dead from the police raid, but this has yet to be officially confirmed. 
A press conference will be held at 5:00 am AEDT (8:00 pm IST, 1:00 pm EST) to clarify the details. 
"Hate Sheikh"
The mysterious Islamist gunman at the center of the hostage crisis in a Sydney cafe has been named as Man Haron Monis, 49, Sydney police announced Monday afternoon.
The cleric, born in Iran, also goes by the name Mohammad Hassan Manteghi.  
Known as the "hate sheikh," Monis claims to practice black magic and has a spotty criminal record, according to the Telegraph, including allegations of murdering his ex-wife and a conviction for sending offensive letters to bereaved families of dead Australian soldiers.
In that case, in late 2009, Monis escaped jail time - but was still forced to serve 300 hours of community service for the offenses, and gained some infamy for having chained himself to the courthouse in protest. 
In April, Monis was implicated in the murder of ex-wife Noleen Pal, who was found dead in a stairwell with burns and stab wounds. Monis's current wife, Amirah Droudis, 34, was also implicated in Pal's murder. 
Monis also faces over 40 charges of sexual assault levied against him in October, including at least seven women from Wentworthville who claimed he approached them during his work as a "spiritual healer" and practitioner of black arts there. 
He is currently on bail and had been due to appear in court over indecent and sexual assault charges in February 2015, according to Australia's Nine News. 
Terrifying ordeal
Monis has taken about 40 people hostage at the Lindt Chocolat Cafe in central Sydney since 4:00 pm local time Monday. Several have been spotted at the front window of the cafe, holding an extremist flag closely resembling ISIS's.
Five hostages have escaped thus far, escaping out side doors into the arms of police monitoring the situation, as footage released earlier Monday reveals. 
In the interim, Monis has shut the lights to the cafe, leaving news crews frustrated as they stand watch across the street watching the siege.  
He has also released videos stating that he wants an ISIS flag and a phone call from Australian prime minister Tony Abbott - as well as making bomb threats.
Several reports are now surfacing that, according to the escaped hostages, Monis has claimed he has planted at least 4 bombs around Sydney. 
According to Australian Broadcasting Corporation reporters now at the scene after the siege ended, family members stated to the press outside the cafe that the Islamists within had forced the hostages to produce "staged videos" and send them to their loved ones. Details of the videos - which are reminiscent of the beheading videos sent out by ISIS in Syria and Iraq - are still not available to the press. 
credit: Reuters
credit: Reuters
credit: Reuters
credit: Reuters