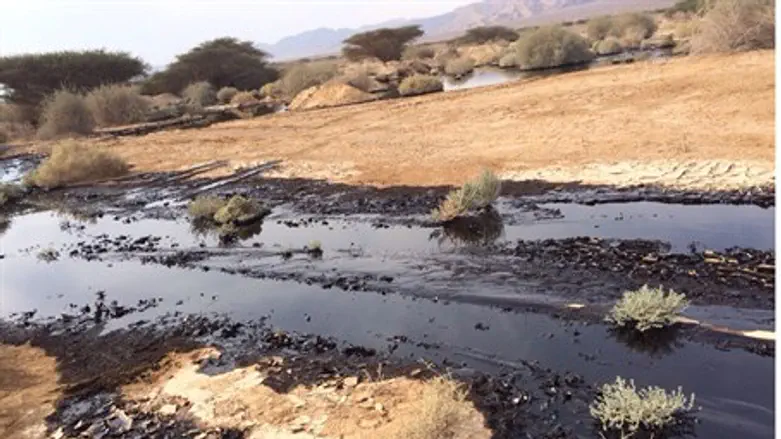 Arava oil spill
Nature and Parks Authority
Environmental rescue workers and officials of the Parks and Nature Authority have turned the tide in the battle against the oil spill in the Arava last week, said Ofir Akunis, Deputy Minister for the Environment. "We are now in control of the situation and there is no danger that the pollution will reach Eilat."
Crews have been working day and night to contain the 5 million liter spill of crude oil that has been threatening nature reserves in the southern Arava. According to experts, the spill did extensive damage to the Evrona nature reserve, which is located near the point where a pipe transporting oil exploded, spewing its contents for several kilometers in all directions.
There had been fear that with the heavy rains of the past several days, the oil would wash down to the Gulf of Eilat, threatening one of the most delicate coral ecosystems in the world. However, speaking at the government meeting Sunday, Akunis said that the threat to Eilat had been removed.
With that, he said, there was still plenty to do. "I have ordered the Evrona reserve to remain closed, and to direct the hundreds of people who have come to see the damage to a lookout post near the reserve," he said. The site will remain closed until further notice, while the cleanup continues – and remain closed until it can be ascertained that the threat to public health from the spill has been removed, he added.
credit: Shahar Ischarov/Israeli Environmental Protection Ministry
credit: Shahar Ischarov/Israeli Environmental Protection Ministry
credit: Shahar Ischarov/Israeli Environmental Protection Ministry
credit: Shahar Ischarov/Israeli Environmental Protection Ministry