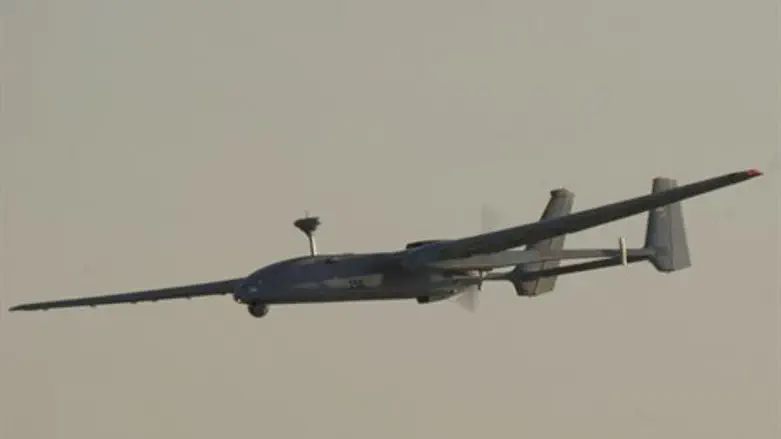 An IAF UAV
Flash 90
The IAF scrambled jets to defend Israel's skies Sunday when Hamas sent a unmanned aerial vehicle (UAV) into the air and flew it over a parade in Gaza marking the 27th anniversary of Hamas's founding. The Israeli concern was that the drone would be sent into Israeli airspace, either for a terror attack or for reconnaissance. Since the drone did not veer toward Israel, it was not shot down.
Hamas also displayed what it said was an Israeli UAV that fell into its possession during the summer war with Israel.
Hamas sent two UAVs into Israeli skies during the war – known in Israel as Operation Protective Edge. Both were shot down while still in the air.
On July 17, a Hamas drone was brought down by Israeli Patriot missiles and apparently fell into the sea.
Three days earlier, a Hamas UAV, apparently laden with explosives, was shot down by IDF Patriot missiles near the port city of Ashdod.
The interception caused a strong explosion to rock Ashdod and triggered air raid sirens.
The Hamas parade also showcased a missile of a type fired to Haifa during Operation Protective Edge. Participants burned an effigy of a Jew and a model of the Jewish Temple. In addition, they carried around coffins with photos of the rabbis murdered in the Har Nof synagogue massacre.