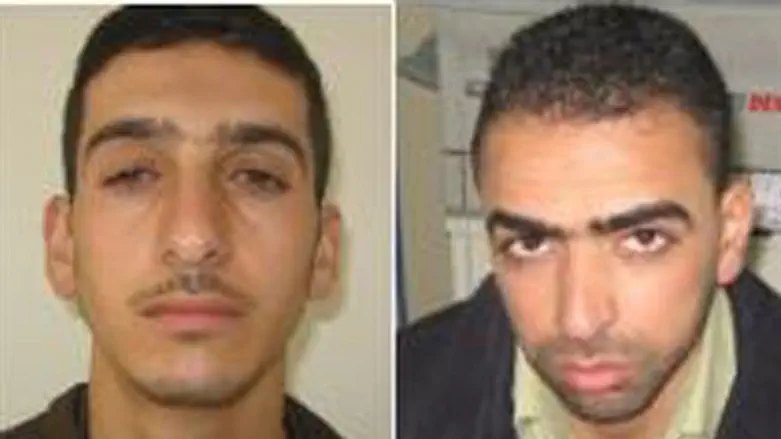 Marwan Kawasmeh (L), Amar Abu-Eisha
Israel Security Agency
The IDF raised the alert level in the Hevron area Monday night, Walla! News reports Tuesday, after two sets of Arab parents reported their children missing from their homes since last Friday. 
The reason: one of the two, Muhammed Abu Eisha, is the nephew of Amar Abu Eisha  - one of the Hamas terrorists responsible for the abduction and murder of yeshiva students Gilad Sha'ar, Naftali Frankel, and Eyal Yifrah in June.
Authorities worry that the younger Abu Eisha may have gone "off the grid" in order to carry out a terror attack.  
According to a military source, "IDF forces in Hevron received a warning of the possibility of a terrorist attack in the area and were asked to raise the alert level." 
Kawasmeh and Abu-Eisha kidnapped the three teens on June 12, as they were attempting to hitchhike home from school on a Thursday night.
The three were then murdered shortly thereafter, but their bodies were not found until weeks later - prompting a nationwide manhunt in the interim which culminated in a crackdown on terror. 
Both terrorists' houses were demolished by the army soon after the bodies of the abducted teens were found. In September, the two were eliminated during a special operation by Israeli security forces in an overnight raid. 
A third terrorist, Hussam Kawasameh, was apprehended by security forces in August in Hevron, and admitted under interrogation to having orchestrated the kidnapping. He said he received funding from Hamas officials in Gaza.