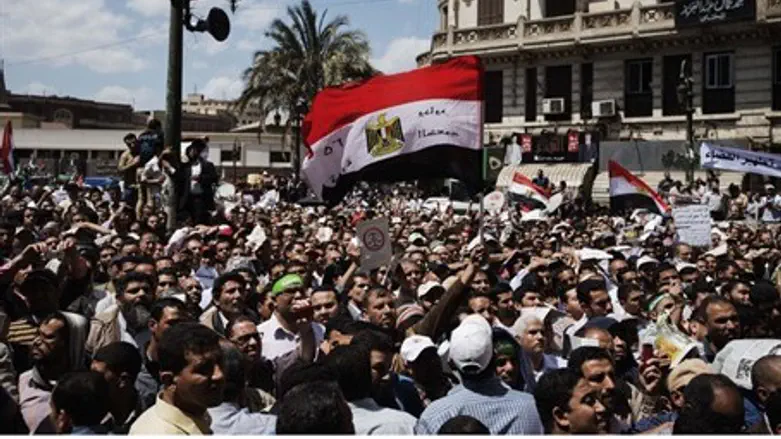 Muslim Brotherhood supporters
AFP photo
Jordan on Monday charged a top member of the Muslim Brotherhood with "souring ties with a foreign country" by criticizing the United Arab Emirates (UAE) after it designated his group as a terrorist organization, Reuters reports.
Zaki Bani Arshid, deputy leader of the Jordanian branch of the Brotherhood, was arrested last month after saying on social media the UAE's rulers lacked popular legitimacy and served Israel's interests by playing a leading role in a crackdown on political Islam.
The arrest of Bani Arshid, initially held for 15 days pending investigation over charges which carry a minimum prison term of three years, is the first such detention of a senior opposition politician in Jordan in recent years.
Some politicians said privately the arrest was made under pressure from the Gulf state.
News of his being charged comes one day after a newspaper reported that Israel provided Jordan with information regarding a secret military organization within the Jordanian Muslim Brotherhood, whose goal was to purchase weapons and then smuggle them into the Palestinian Authority.
The security sources revealed that 31 members of the local branch of the Muslim Brotherhood have been detained in recent days on terrorism-related charges.
Compared with the tough crackdowns on Islamist groups in Egypt and Gulf countries, Jordanian authorities have been relatively tolerant of the Brotherhood's presence.
Jordan has, however, arrested several members of the group in recent months for publicly criticizing the government for not taking stronger measures to censure Israel after the Gaza war earlier this year.
The group also objects to Jordan's peace treaty with Israel and has often organized protests calling for its cancellation.
In 2012, Jordan's Muslim Brotherhood  sharply criticized the naming of a new ambassador to Israel, saying the move was "an act of provocation towards Jordanians."
Jordan's Muslim Brotherhood is the country's biggest opposition party, has operated legally for decades and has substantial grassroots support.
Bani Arshid's arrest has caused an outcry among supporters and activists who accuse the authorities of eroding freedom of expression and putting dissidents on trial in unconstitutional military courts.