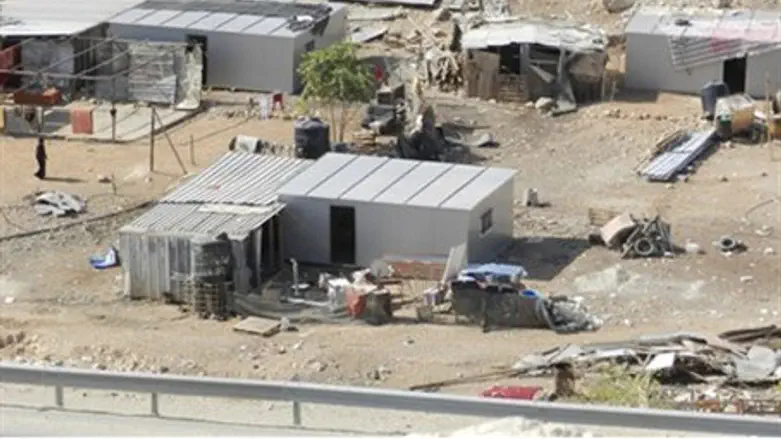 Illegal Palestinian building in Area C
Regavim
The Subcommittee for Judea and Samaria of the Knesset's Foreign Affairs and Defense Committee hosted on Sunday the Coordinator of Government Activities in the Territories (COGAT), Major General Yoav Mordechai, for a discussion of illegal construction in Judea and Samaria.
According to information presented to the committee, about 550 illegal structures were built by Arabs in Areas C in the course of 2014, as opposed to 150 illegal structures built by Jews. Bearing in mind that the Arab population in Areas C is smaller than the Jewish one – about 90,000 Arabs compared with about 400,000 Jews – the rate of illegal construction in the Arab sector is 16 times that in the Jewish sector.
Subcommittee Chairman MK Moti Yogev (Jewish Home) demanded that the security authorities carry out demolition orders against illegal structures and present a timetable for the relocation of Bedouins from the Abu Dis and northern Jericho area. In addition, he demanded that international organizations encouraging illegal building be reined in.
"Based on my past experience," he said, "with the cooperation of the Israel Police, we removed the foreign lawbreakers in the past, through the court, and expelled them from Israel. This is what is required today, too, of the elements in Central Command, the Civil Administration and the Foreign Ministry – to enforce the law."
MK Orit Struk (Jewish Home) said the information presented to the committee shows an "astronomical" rate of illegal construction by Arabs in Areas C. She said the phenomenon was "organized, funded and timed by the Palestinian Authority (PA) and the European Union," and blamed the IDF's Civil Administration for failing to forestall it.
The NGO Regavim presented the committee with aerial photographs that show that the PA is systematically encouraging illegal construction in the area next to Jerusalem. The construction is funded by EU states, in contravention of the law and previous agreements.
Regavim's Ovad Arad accused the Israeli defense establishment of standing by idly as the PA works day and night to take over state land. He said that some of the delays in enforcement stem from legal obstacles, but it does not stand to reason that the legal advisor of the Civil Administration is the one who runs the Administration, de facto. In addition, he claimed, the Administration sits on its hands even when there are no legal obstacles to demolishing illegal structures.
A source in COGAT denied, in a conversation with Arutz Sheva, that there is any discrimination against Jews in enforcement of demolition orders.