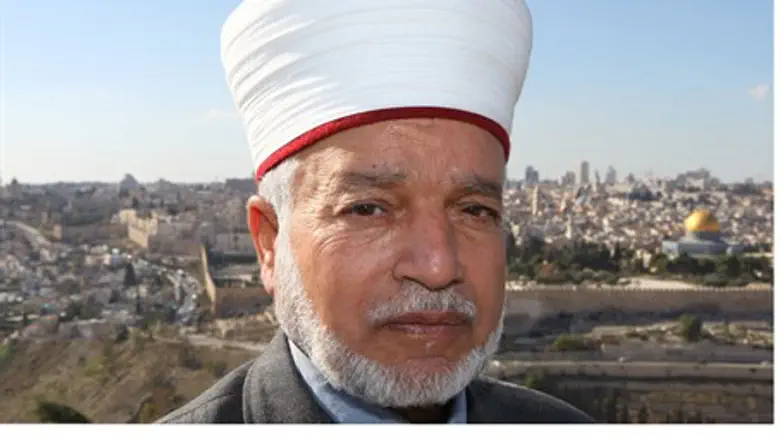 PA Mufti Muhammad Hussein
Nati Shohat/Flash 90
Palestinian Authority (PA) Mufti Sheikh Muhammad Hussein demanded that Israel transfer to the PA the bodies of the two "martyr" Arab terrorists Ghassan and Uday Abu Jamal, who murdered five in an attack with hatchets, knives and guns on a Jerusalem synagogue in Har Nof two weeks ago.
Hussein, who in the past said Muslims are in a religious war against the Jews - calling them the "descendants of apes and pigs" - made the demand at a press conference at the home of the terrorists in Jerusalem's Jabel Mukabar last Sunday, which was translated by Palestinian Media Watch (PMW).
"It is the martyrs' right for us to pray for them, and this is a right according to sharia (Muslim law). Their relatives, friends and loved ones also have the right to see them one last time, and no one gains anything from keeping the martyrs' bodies," Hussein said.
Giving a glimpse of what could be expected if Israel were to give in to the demand, the PA lavishly lauded 91 terrorists in 2012 when their bodies were returned, with Hussein extending to them "great honor" in a speech.
Hussein's request comes on the heels of the PA media's distortion of the two terrorists as "victims," with PA and Hamas officials justifying the murder of "terrorist" rabbis.
Attorney Raed Bashir, who represents the families of the two terrorists, was quoted by PMW as turning the attack on its head and saying Prime Minister Binyamin Netanyahu should be indicted, blaming Israel for the Arab terrorist attack.
"Given that the occupation forces are responsible for the deaths of eight people in the operation (synagogue massacre - ed.) - six settlers and the martyrs Ghassan and Uday Abu Jamal - an indictment must be submitted against Prime Minister of the occupation Netanyahu, as he is responsible for the events in Jerusalem," said Bashir.
Likewise an article in a paper distributed with the official PA daily Al-Hayat Al-Jadida called the terrorists "martyrs" and said they killed "extremist Jews...in western occupied Jerusalem," indicating how PA designs are not merely for the eastern part of the capital.