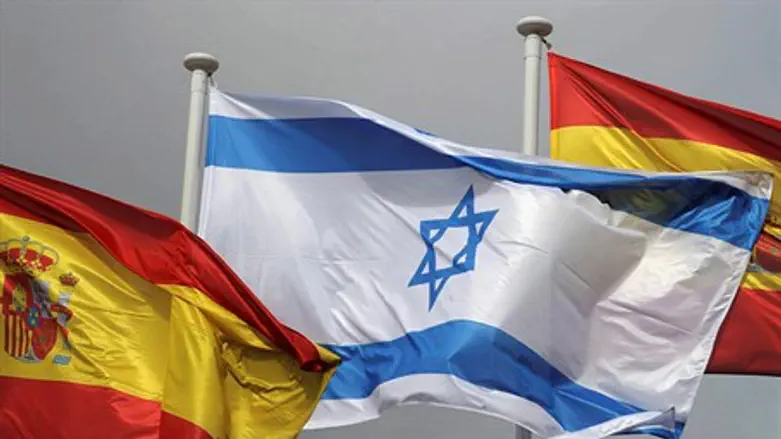 Israeli and Spanish flags
Flash 90
The Corruption Perception Index (CPI), which measures the perceived levels of public sector corruption worldwide, and is put out annually by Transparency International, has just released its score sheet for 2014. 
Countries are graded on a scale from 0 (highly corrupt) to 100 (very clean).  A poor score is usually a sign of widespread bribery, lack of punishment for corruption, and public institutions that do not cater to citizens' needs.
A country or territory's rank also indicates its position relative to the other countries and territories in the index. 2014's index includes 175 countries and territories. 
The two most corrupt countries in the world, tied at a score of 8, are Somalia in Africa and North Korea in Asia. The least corrupt country, currently, is Denmark with a score of 92. New Zealand follows closely behind with 91. 
It is noteworthy that a vast majority of countries ranked as "least corrupt" are located in northern and western Europe, with seven such countries comprising the top ten. 
Israel, with a score of 60, is the third least corrupt country out of a total of 17 countries in the Middle East and North Africa region. Israel ranks 37th overall, in a tie with Spain, and trails behind Qatar at 69 and the United Arab Emirates at 70, in its region. 
The Middle East and North Africa region is particularly tumultuous, with three out of the bottom ten countries on the scale coming from this region of the world. 
One of the biggest issues in the region, which may also be a factor in Israel's score, is the unstable security situation and the many instances of violence and armed conflict. 
As a result, many countries in the region have invested - both politically and financially - in dealing with security threats, rather than pouring more resources into fighting corruption issues effectively. 
Israel, however, is one of only three countries in the region who have an access to information law. The Freedom of Information Law was approved and implemented by the Knesset in 1998. 
The United States is tied at 17th with three other countries, at a score of 74 - Ireland, Hong Kong, and Barbados.