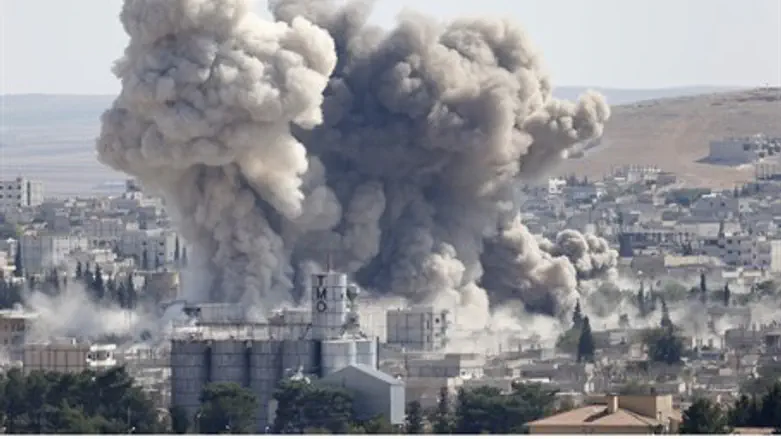 Coalition airstrike against ISIS in Kobane (file)
Reuters
Pentagon officials believe Iran conducted airstrikes against the Islamic State terror group (ISIS) in Iraq in recent days - marking the first time Tehran has deployed its air force against the jihadi group and confirming previous reports of direct Iranian intervention.
According to Reuters, senior US officials said there was evidence to suggest Iran had deployed F-4 Phantoms to strike ISIS targets in Diyala near its western border with Iraq. Diyala has been the scene of fierce clashes between ISIS on one side and Iranian-backed Shia militias and Kurdish Pershmerga forces on the other. Anti-ISIS forces recently pushed the Sunni Islamists out of towns and villages in the area.
Iranian and Iraqi officials both denied the reports, but an Iraqi security expert said all evidence pointed to the contrary.
"It is true that Iranian planes hit some targets in Diyala. Of course the government denies it because they have no radars," Hisham al-Hashemi told Reuters. 
Al Jazeera recently released what appeared to be footage of the Iranian strikes, and military experts have noted that the only states using F-4 Phantoms in the region are Iran and Turkey - with the latter unlikely to be involved given its notable reticence to intervene in the fight against ISIS.
US Secretary of State John Kerry declined to comment, telling reporters in Brussels: "I am not going to make any announcements, or confirm or deny the reported military action of another country in Iraq. It is up to them (the Iranians) or up to the Iraqis to do that if it did indeed take place."
However, an AFP report from the Brussels conference - where Kerry is hosting key talks with members of the anti-ISIS coalition - quoted Kerry as taking a positive view of Iranian intervention.
"If Iran is taking on (ISIS) in some particular place... and it has an impact, then it's going to be net effect (that) is positive," Kerry was quoted as saying.
But White House spokesman Josh Earnest flatly denied that the US was actively coordinating with Iran.
"At this point our calculation about the wisdom of cooperating with the Iranians hasn't changed. We're not going to do it," he said.
Despite the denials of US-Iranian cooperation, reports abound of behind-the-scenes cooperation, with some warning the cooperation could come at the cost of an effective deal to curb Iran's nuclear program.
Either way, it is undeniable that US-led airstrikes have helped Iranian efforts in Iraq, with Iranian-backed Shia militias and the largely pro-Iranian Iraqi government forces directly benefiting from the airstrikes.