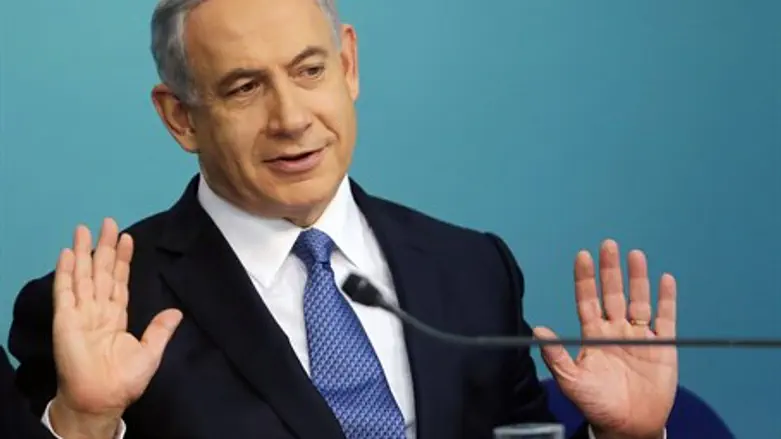 Binyamin Netanyahu
Alex Kolomoisky/POOL/Flash 90
Prime Minister Binyamin Netanyahu addressed the nation on Tuesday night shortly after 8 p.m., less than two hours after firing coalition members Finance Minister Yair Lapid (Yesh Atid) and Justice Minister Tzipi Livni (Hatnua), effectively disbanding the government.
"I turn to you tonight because in the current situation, in the current government, it is impossible to lead the nation," said Netanyahu, saying the impasse is preventing him from fulfilling his role as prime minister.
While Netanyahu called it "one of the best governments, one of the most stable governments in the history of Israel," adding it was "a true unity government, and a government that did a lot," pressing the accomplishments of his coalition, he added "I must tell you that in the current government it is much more difficult to do things for the public."
He claimed he led Operation Protective Edge "with cold considerations" of public welfare, but said in the current government it is much harder to do other things needed for security.
Netanyahu began his speech by essentially firing the first shot of the election campaign, telling voters who wanted a strong government to vote Likud, noting that the formation of the government was determined "because the party under my leadership, the Likud, didn't get enough mandates...so there were in the government contrasting angles."
That comment was clearly aimed at his right-wing opponents Naftali Bennett (Jewish Home) and Avigdor Liberman (Yisrael Beytenu).
The government had three core points according to Netanyahu: first to manage a strong policy against Iran's nuclear program, demanding that the Palestinian Authority (PA) recognize Israel as the Jewish state, and continue building in Jerusalem - a point that may strike some as odd given his current informal months-long freeze on construction in eastern Jerusalem, Judea and Samaria.
Lapid and Livni undermined each of those stances on numerous occasions Netanyahu said, elaborating on several key examples, including Yair Lapid's public opposition to the Israeli delegation's boycotting of Iranian President Rouhani's speech to the UN General Assembly.
The PM also lashed out at Tzipi Livni, noting with irony that she accused him of being "irresponsible" by building in Jerusalem for Jewish residents - while she herself met with the PA and its chairman Mahmoud Abbas despite his explicit instructions not to do so, after Abbas torpedoed peace talks by sealing a unity deal with Hamas in April.
The prime minister rejected rumors that he had made a deal with hareidi parties in anticipation of elections, branding such claims as baseless. But he went further still, claiming that it was in fact Lapid who held backroom talks with the hareidi parties, despite saying in public that he was against joining with them.
"In one word, you call that a putsch. You can't run a government this way," said Netnayahu, slamming "narrow political considerations" fueling the moves.
"It isn't a simple thing for me to do this evening," said Netanyahu, saying he "gave up on being prime minister because I didn't have the majority in the Knesset, I didn't have the mandates."
The move was made for the benefit of the proper management of the country, according to Netanyahu, who said he was "taking a personal risk."
He called on the public to vote for Likud to give him a true mandate to lead the nation, saying "we must go elect a new government that is stronger and more stable."
When challenged by journalists during the question and answer session as to why he was not similarly blaming Bennett and Liberman - who both issued harsh comments against his leadership during the summer's war with Gaza terrorists - Netanyahu noted that while that was true, the nationalist party leaders stopped such public criticism when he reprimanded them for it.
Not so Lapid and Livni, whose public criticisms of the government "got even stronger," and who even went so far as to join the campaign of delegitimization against Israel by foreign powers, he said.
"I wanted as wide a government as possible; I wasn't able to, they didn't allow me to," said Netanyahu, saying he called for the opposition to join the coalition during the operation in Gaza and after the recent Jerusalem synagogue attack in Har Nof.
According to reports Tuesday the Likud party has decided to back opposition bills calling to break apart the government, which are to be voted on Wednesday. Netanyahu in announcing the dismissal of Lapid and Livni called for elections "as soon as possible."
In that original announcement, Netanyahu complained of attacks from Lapid and Livni; two months ago the two declared a leftist front, and Lapid shortly afterwards reportedly threatened to form an alternate coalition.
Criticism of the prime minister's leadership from the Right has also not entirely abated. Economics Minister and Jewish Home chairman Naftali Bennett, who also serves as Jerusalem Affairs Minister, recently said that in light of the state's inability to stem the rising Arab terrorism in Jerusalem his own government "has no right to exist."
Netanyahu's coalition was formed after elections last January, and has now crumbled well ahead of its end term of November 2017 after less than two years.