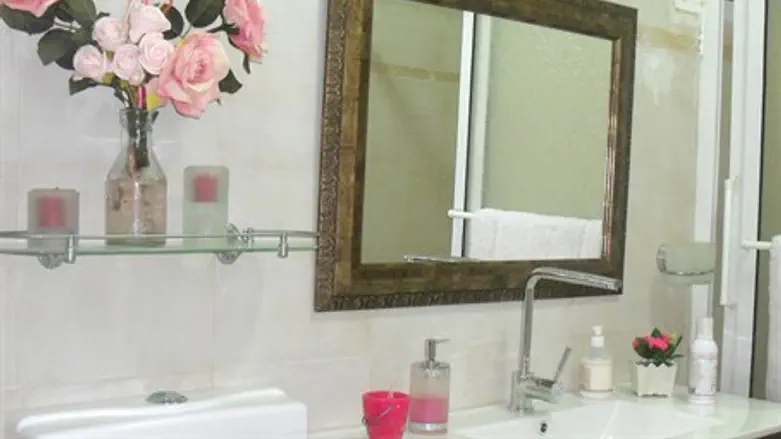 Mikveh after the renovation
Public Relations
Jewish women in Israel have sometimes complained about the sub-par standards plaguing many mikvaot (Jewish ritual baths), making the ritual immersion less than a pleasant experience for some, all the more so for those who are less religious.
A mikveh in Barkan, a self-defined secular community located in western Samaria, was recently beautifully renovated and saw its attendance shoot up drastically, proving that cleanliness and interior design can radically enhance the experience for women - and allow greater observance even for those who are less observant.
The renovation was conducted by the Religious Council in Samaria, which held an event to unveil the new mikveh with various features for women including make-up counseling, nail care and more.
After the renovation and event, the council found that the number of women in the secular community using the ritual bath had tripled.
And Barkan was not the only community to see such results - in Einav, located in northwestern Samaria, there was a full 40% increase in usage after the local mikveh was renovated according to Moshe Cohen, head of the Religious Council in Samaria.
"There appears to indeed be some section of the population that is prevented from the mitzvah (commandment) of immersion just because of the lack of comfort or aestheticism in the immersion, and not because of faith," remarked Cohen.
Those findings "sharpen our obligations as religious councils to offer the best for those women who believe but can't fulfill their rights because of the external appearance and investment in the mikvaot," said Cohen.
Shomron (Samaria) Regional Council head Gershon Mesika commented "Judaism is connected to all the nation of Israel and therefore we are happy that secular women also use the mikvaot and feel comfortable in them. We will continue to upgrade the Council's mikvaot without distinguishing between religious and secular communities."
After the renovation at Barkan
Public Relations