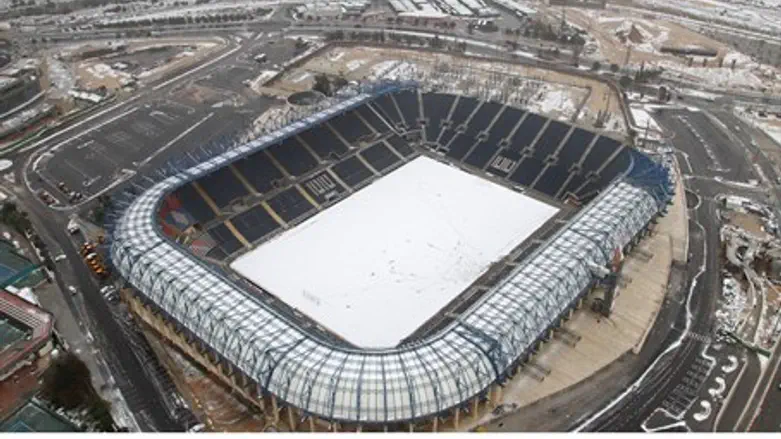 Jerusalem's Teddy Stadium
Flash 90
It has been released for publication that Israeli security services, together with the IDF, broke up a major Hamas terrorist cell in September that was planning attacks on a range of high-profile Israeli targets, including Jerusalem's Teddy Stadium.
According to the Israeli Security Agency (ISA or Shabak), the cell - which was based in Judea and Samaria - was directed by Hamas's leadership in Turkey. It involved several members of Hamas's "military wing", the Ezzedine Al Qassam Brigade, who had received specialist military training abroad.
During the course of the investigation more than 30 terror suspects were arrested and a large cache of weapons seized by security forces, including two M-16 rifles, ammunition and bomb-making material.
The cell in question is believed to have been behind the series of roadside bombs placed at Rehelim Junction in Samaria, close to the city of Ariel, back in August 31, as well as another explosive charge planted at Jit Junction. In both cases, terrorists set two bombs and timed them to go off one after another following enough of a time-lapse to allow the second charge to go off when emergency services arrived.
The attacks failed to cause any injuries, but led to a series of arrests by the Shabak which ultimately led to the major Hamas cell.
Upon interrogating suspects, investigators revealed a long list of targets for attack throughout Israel.
They also discovered that several of the terrorists involved in the plot had been recruited in Jordan as far back as 2012. Those recruits received extensive military training and were smuggled back into Judea and Samaria at the start of 2014, in preparation for a major terrorist campaign. Their tasks included making contact with and recruiting other cell members, and carrying out reconnaissance and other key operational tasks.
Shabak investigators have revealed the intricate and carefully-planned details of the wave of terror.
The selection process
Potential recruits were scouted by Hamas commanders among students in Jordan who they knew personally and therefore were able to trust, according to investigators. Those singled out for recruitment were also required to shared the same ideology of Hamas or the Muslim Brotherhood (Hamas is the Palestinian branch of the Brotherhood).
Those enlisted were immediately passed on to senior officials at Hamas's Jordanian headquarters, who were tasked with training them in military and other fields.
Military training
After being located and recruited, the new operatives were trained in the specific fields they would need to carry out terrorist attacks. The training was carried out in coordination with and under the supervision of Hamas's leadership in Gaza as well as abroad, and took place in different locations, including Gaza, Syria, Turkey and Jordan.
Recruits were taken into Gaza via the network of Hamas smuggling tunnels from Egypt. Upon arrival, they received intensive training in sabotage, weapons training, navigation and intelligence-gathering. 
From there they traveled to Turkey, where they received more specific courses gearing towards individual tasks necessary for targeting cites throughout Israel, as well as Israeli and Jewish targets abroad.
In Jordan, they also received weapons and explosives training, espionage, and briefings on attacks they were to carry out.
Preparing for attacks
The newly-trained terrorists were then placed under the command of Hamas's Turkey-based leadership, headed by Salah Al-Arouri - the man who, among other things, was responsible for the kidnap and murder of three Israeli teenagers back in June. Those Hamas officials appointed specific roles to each recruit and deployed them in different locations throughout Judea and Samaria.
Hamas commanders in Jordan also helped coordinate their operational activities.
The extensive list of planned attacks included:
Shooting attacks against Israeli drivers in Judea and Samaria
Infiltration attacks into Israeli communities
Kidnapping Israelis both in Judea-Samaria and outside of Israel
Car bombings
A major attack on Jerusalem's Teddy Stadium
An attack on Jerusalem's Light Rail
Recruiting operatives in Jordan to carry out deadly raids into Israeli territory
Latest in a string of terror cells broken up
The revelations once more illustrate the high motivation and priority placed by Hamas on setting up major terrorist cells in Judea and Samaria.
Earlier this month it was revealed that another major terrorist cell in Judea and Samaria was broken up in August; in that case as well, the cell was coordinated by none other than Salah Al-Arouri from his base in Turkey. Arouri funneled millions of shekels' worth of funds into Judea and Samaria to set up operations there as part of the plot.
The massive efforts being made by Hamas in general, and Al-Arouri in particular, are aimed not just at attacking Israel but also at undermining the legitimacy of the Palestinian Authority headed by Mahmoud Abbas. 
The terror cell broken up in August is believed to have been linked to yet another major Hamas plot - this time in the form of a direct military coup against the rule of the PA, as well as attacks on Israelis. That plot was foiled by Israeli security forces as well, and saw 93 Hamas terrorists arrested in total.
There is no doubt that the tireless efforts of Israeli security forces to foil this latest plot, as well the growing list of previous plots, have saved countless Israeli lives.
Terrorists named
Security services have also released for publication the names and details of several of the terrorists arrested in the course of the operation.
Clockwise from top left: Manef Agbariya, Rajai Ahmed Mustapha Amori, Mahmoud Wa'el Mahmoud Malham, Abdullah Mahmoud Yusef Zeituni, Musab Khaled Ibrahim Dawib, Adnan Taysir Kamel Samara, Zuheib Radwan Mahmoud Ta'abat, Mahmoud Yusef Mahmoud Shorbaji
- Credit: Shin Bet
Raja'i Ahmed Mustapha Amori: 30 years old, resident of Tulkarem. A member of Hamas's military wing, he has served five previous terms in Israeli prison for terrorism offenses. Was drafted into the cell at the start of 2014 by Ali Sa'id Ahmed Sa'id, a Gaza-based Hamas commander. Infiltrated back into Judea and Samaria together with one Mahmoud Suleiman, both of whom are responsible for placing the bombs at Rehelim and Jit Junctions, as well as preparing for other attacks including a car bombing. He has admitted the charges against him.
Mahmoud Wa'el Mahmoud Malham: Also 30 and from the town of Anabta near Tulkarem. A member of Hamas's military wing he has served time for terrorist activity under the auspices of Hamas's Jordanian leadership. Was arrested during the investigation into Raja'i Amori. Has admitted to storing weapons, including an M-16 and ammunition, and bomb-making equipment for the terror cell in a secret apartment in Ramallah, at Amori's request.
Abdullah Mahmoud Yusef Zeituni: 25, a resident of Jordan. Admitted to having traveled to Gaza on three separate occasions between 2012-2013, where he received extensive weapons and explosives training. Was smuggled into Judea-Samaria by Hamas operatives in Jordan and ordered to build a new life there as a cover story, in preparation for carrying out attacks against Israelis in the future.
Musab Khaled Ibrahim Dawib: 23, a resident of Za'atara, east of Bethlehem. Recruited while studying in Jordan between 2010-2014. He admitted to having been assigned specific tasks by Hamas in order to facilitate attacks against Israel, including weapons trafficking and transferring funds to Manef Agbariya.
Adnan Taysir Kamel Samara: 30, a resident of the village of Sfarin near Tulkarem. A member of Hamas's military wing, he has spent four previous sentences in Israeli prisons for terrorism offenses. Admitted under interrogation to having provided support to Manef Agbariya, as well as possession of an M-16 rifle and active membership in the cell with the aim of attacking Israelis.
Zuheib Radwan Mahmoud Ta'abat: 29, a resident of Bayt Dajan near Bekaot in Samaria, and member of a family with a long history of Hamas ties. Admitted to having joined the Hamas cell and meeting with senior Hamas commanders who provided him with espionage, weapons and explosives training. Was due to return to Jordan to complete his training in April, and in the meantime was tasked with recruiting additional people from his village to the cell.
Mahmoud Yusef Mahmoud Shorbaji: 25, originally from Kuwait, he was recruited while studying in Jordan, and was arrested in October while attempting to enter Judea and Samaria. Admitted under interrogation to having been accepted into the Hamas cell in April 2014 by the Islamist movement's Jordanian leadership. Was tasked with facilitating communication between Hamas's international leadership and the operatives inside Judea-Samaria. He was scheduled to continue his training in Jordan but as mentioned previously he was apprehended by Israeli security forces beforehand.