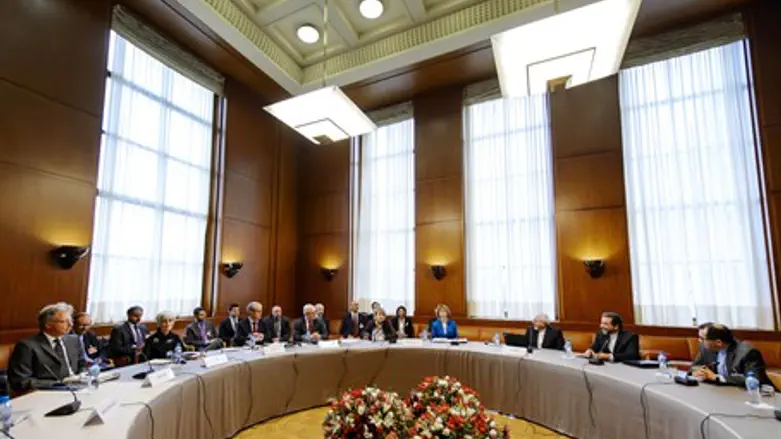 Talks in Geneva
Reuters
Israel, along with allies the United States, Canada, and Australia are attempting to dissuade nearly 200 states that make up the Fourth Geneva Convention from convening a special session in regard to the Israel-Palestinian conflict. 
The special session, slotted for mid-December would address the conditions of Palestinians living in Judea and Samaria, the Gaza Strip, and eastern Jerusalem, Israeli and Western diplomats told Haaretz Wednesday.  
The Fourth Geneva Convention, adopted in 1949, deals with the protection of civilian populations residing in areas of armed conflict or military occupations. The treaty forbids harming civilians and decrees that the occupying power must uphold the human rights of the civilian population. 
While Israel is party to the convention, the Knesset has never legislated the treaty into Israeli law. Israel dos not consider the treaty applicable to Judea and Samaria, as well as any part of Jerusalem, for it considers these areas to be "disputed," and not under so-called occupation. 
Government officials believe that Switzerland, the convention's sponsor, has come under strong pressure from the Palestinian Authority as well as Arab states to proceed with the session. Switzerland is expected to issue invitations to the conference within days. 
In the aftermath of failed peace negotiations in the spring, Palestinian Authority Chairman Mahmoud Abbas wrote to the Fourth Geneva Convention asking for the special session. 
The Swiss consulted with other signatory states to determine if there was enough interest in holding the conference. They proposed a three-hour conference at the ambassadorial level to discuss the upholding of the Fourth Geneva Convention's stipulations. 
The conference will have few speeches and no media coverage except for a statement to the press to be released only at the end of the meeting. 
"We made it clear we didn't want a political event or debate club, or a conference that would blame or criticize one of the sides," a Swiss diplomat said.
Israel, however, objected strongly to the move. Senior diplomats have spoken to Geneva several times in an effort to persuade the Swiss Foreign Ministry not to hold the session. Israel has said it will boycott if the convention is held. 
"They told us that holding the conference would help a one-sided Palestinian move intended to make Israel look bad and attack it in an international forum," the Swiss diplomat said.
The United States, Canada, and Australia have also begun exerting pressure on Switzerland and other countries to thwart the conference. Although, the US has yet to make a formal decision, officials told Switzerland they too would boycott the conference. Canada offered a similar message. 
Edgar Vasquez, a US State Department spokesman, affirmed American's opposition to the convention. "We strongly oppose the convening of the High Contracting Parties to the Geneva Conventions and have made our opposition unmistakably clear," he said.