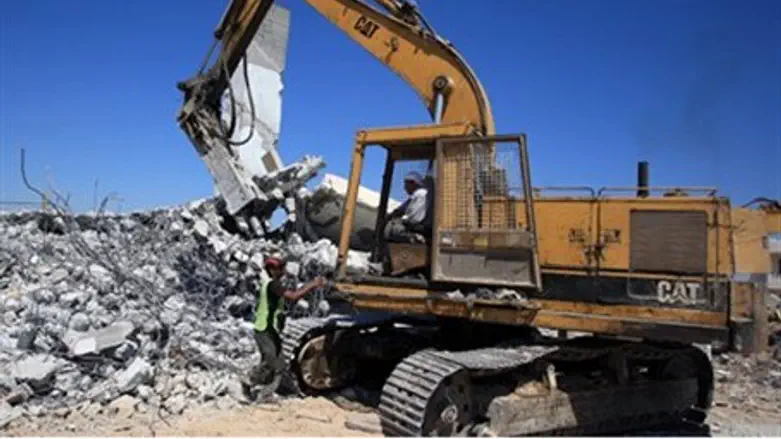 Demolition (illustration)
Flash 90
The High Court on Wednesday kiboshed government plans to demolish the homes of terrorists. One of the few methods security forces in Israel have to discourage Arabs from joining the ranks of terrorists – demolishing the homes of those involved in terrorism – was taken off the table as the result of a lawsuit by an Arab rights group.
The government must now respond to the restraining order the Court issued on home demolitions if it wants to continue using the sanction. According to security officials, the prospect that their family's home will be demolished has discouraged potential terrorists from carrying out attacks, as they fear the wrath of their families who will become homeless.
In Wednesday's case, the Court ruled that security forces could not demolish the home of Mu'taz Hijazi, the terrorist who shot and seriously injured Temple Mount activist Yehuda Glick outside the Begin Heritage Center in Jerusalem last month. Hijazi had been an employee at the Center's restaurant.
The decision Wednesday is likely to affect the demolitions of the homes of Ghassan and Uday Abu al Jamal, the two terrorists who carried out the massacre at the "Kehillat Bnei Torah" synagogue in Jerusalem's Har Nof neighborhood last week. Four civilians and one police officer were murdered in that attack, and several people were wounded as well. Orders for the demolition were handed down last week.
The Court decision currently affects only the decision to demolish the home where Hijazi lived, but the Court would likely issue a restraining order on the Abu al Jamal demolitions if asked.