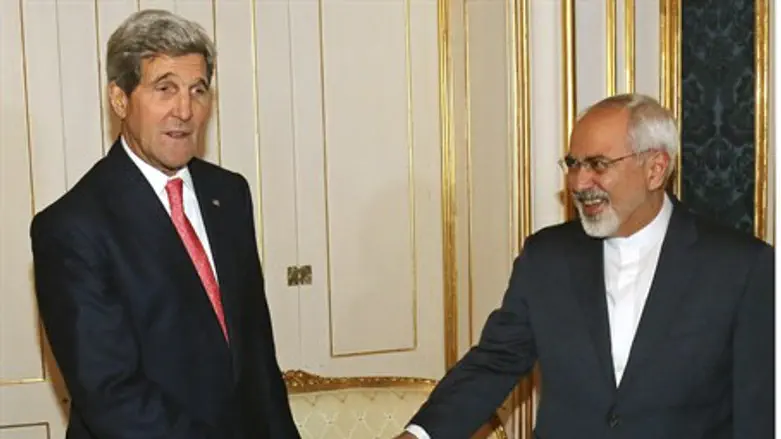 Secretary of State John Kerry and Iranian Foreign Minister Mohammad Javad Zarif
Reuters
The United States suggested to Iran on Sunday that it consider extending nuclear talks, The Associated Press (AP) reports.
Iran and six world powers are holding talks in Vienna in an attempt to reach a lasting agreement on Tehran's disputed nuclear program before a deadline on Monday, but little progress has been made.
A senior U.S. official told AP that with the Monday evening cutoff date a little more than a day away, Secretary of State John Kerry proposed to Iranian Foreign Minister Mohammad Javad Zarif that the two sides start discussing post-deadline talks.
At the same time, two Western diplomats said, negotiations were continuing with Iran on trying to bridge differences on reducing Tehran's ability to make nuclear weapons to levels acceptable to Washington while giving the Islamic republic the relief it seeks from international sanctions over its atomic activities.
All three officials demanded anonymity because they weren't authorized to discuss the diplomatic twists and turns of talks that have been under a blanket of confidentiality since the sides started negotiating a comprehensive nuclear deal eight months ago.
The U.S. official said a number of options were under discussion.
"An extension is one of those options," the official said. "It should come as no surprise that we will also engage in a discussion of the options with the Iranians at some point as well."
As the clock ticked down, other foreign ministers from the six negotiating powers were converging on Vienna in a concerted effort to at least get an acceptable way to extend the talks even if the deal deadline is missed.
The foreign minister of Germany, Russia and France were already in Vienna by late Sunday. Britain's foreign secretary was en route and China's foreign minister was scheduled to arrive Monday.
The Islamic Republic hotly denies its nuclear program is meant to build a nuclear weapon, even though the UN's International Atomic Energy Agency (IAEA) has revealed Iran is not abiding by the interim conditions in refusing to answer questions on the military aspects of its program.
Iran has been toughening its stance in recent weeks. Iran's chief negotiator, Abbas Araqchi, recently said he sees no prospect for a deal unless the other side abandons its "illogical excessive demands".
A senior Iranian official followed those comments by declaring that Iran will demand that all Western sanctions be lifted as part of a final deal, rejecting an American proposal of a gradual lifting of sanctions.
An Iranian official said earlier on Sunday that reaching a deal with the West over its nuclear program by tomorrow is "impossible".
The official said the discussion "may soon have to shift from trying to reach an agreement to extending negotiations past tomorrow's deadline for the end of this round of negotiations."