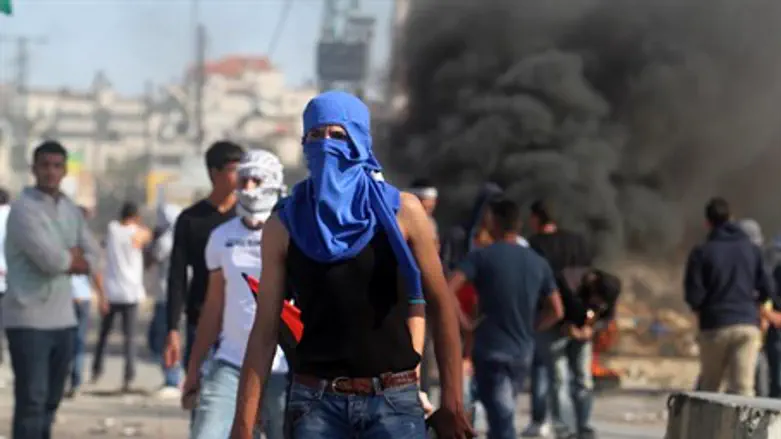 Arab rioters in Jerusalem (illustration)
STR/Flash 90
Salah, Hassan, Riyad and Ahmed of Jerusalem's Shuafat neighborhood - just a handful of the many Arab children aged eight to 13 who, instead of going to school and learning, mask their faces and assault police officers with potentially lethal rocks every single day.
Yedioth Aharonoth interviewed Jerusalem's youngest Arab terrorists last week, providing a unique look into the minds of those who have forgone their studies and futures for the pursuit of violence. Even more Arab children join them in their attacks after the school bell rings.
"We are ready to die as martyrs, we have nothing to lose," says one Arab child terrorist. "Our heads aren't in studies at all, we are always planning what to do against the police."
The children mass in their hundreds at the entrance to Shuafat to shoot fireworks at police. In response to the escalation in firework attacks, which can inflict serious wounds, the IDF has given new orders allowing soldiers to respond with live fire, although the firework attacks appear to continue unabated amid the legal backlash officers frequently suffer for defending themselves.
"Today I didn't go to school because I want to continue our struggle as a response to the murder of the martyr Ibrahim al-Akari," one 13-year-old said, referring to the Hamas terrorist from Shuafat who murdered two Israelis with his van earlier this month.
The criminal child added "also all that's happening at the Al-Aqsa Mosque really annoys us, it's a holy place for Muslims." The Mosque is located on the Temple Mount, the holiest site in Judaism, where the Jordanian Waqf has by fiat forbidden Jewish prayer and Arab rioters attack police on a near daily basis.
And the commitment to violent attacks shows no signs of slackening, with one child saying "all of us here are ready to sacrifice our lives and die as martyrs."
Another child from the Shiloach (Silwan in Arabic) neighborhood noted "today the only thing I think about is throwing rocks at police." He also indicated rocks may just be a "gateway drug" of sorts into the wider world of Arab terrorism, saying "if they (Israel) continue in the same behavior that could lead us also to take part in terror attacks."
One rioter at the tender age of eight pledged more violence, and was quoted saying "inshallah (Allah willing) we'll succeed in liberating Palestine and Jerusalem."
"All the students at school aren't functioning in studies," another student said, indicating the systemic nature of the violence. "Me and my friends every day plan what to do during the day against the police. We've thrown molotov cocktails, fireworks and rocks. I'm proud of these acts."
What is Israel to do about the young terrorists? Arab terrorist children interviewed by AFP last month revealed jail does not deter them, with many of them spending a short time behind bars only to return to the streets and the attacks.
Some alternative solutions have been offered, with MK Danny Danon (Likud) proposing to remove child stipends from the parents of children who throw rocks, thereby stopping the state funding of its youngest terrorists.
Another proposal by Interior Minister Gilad Erdan (Likud) announced on Saturday would see the Arab terrorists taking part in the violence have their residency status and social benefits removed.