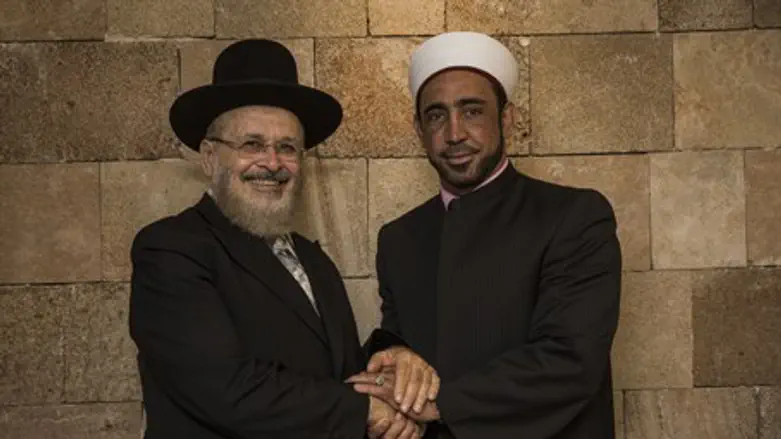 Akko's Rabbi Yosef Yashar, Sheikh Samir Assi
Hadas Parush/Flash 90
Anonymous vandals on Friday threw acid on the car of Sheikh Samir Assi who serves as the Imam of Akko, a mixed Jewish and Arab city located near Haifa.
After the horrific terrorist attack on a synagogue in Jerusalem's Har Nof neighborhood this Tuesday - in which two Arab terrorists murdered four Jews at prayer with hatchets and guns and also killed a Druze police officer before themselves being shot dead - Assi initiated a call for interfaith tolerance.
The imam was one of the organizers of an interfaith meeting of religious leaders with the Jews who pray at the synagogue that came under attack.
Police estimate that the attack on Assi's car was committed by Muslim extremists who opposed his gesture of solidarity, but note that all angles of investigation are being pursued.
"Jewish and Arab residents of the city of Akko proved that they know to honor each other and to live together amid mutual honor and understanding," stated Akko Mayor Shimon Lankri. 
The mayor continued "this incident is very troubling and there is nothing left but to hope that the radical sources will be taken care of with the full severity of the law."
Despite Lankri's assessment of coexistence in Akko, it has been documented that some Arab residents of the city have been flying flags of the Islamic State (ISIS) terrorist group, hinting at the extremist undertone lurking among the city's Arab community.
Likewise Arab extremists have reportedly attacked Jewish homes in the city with rocks.