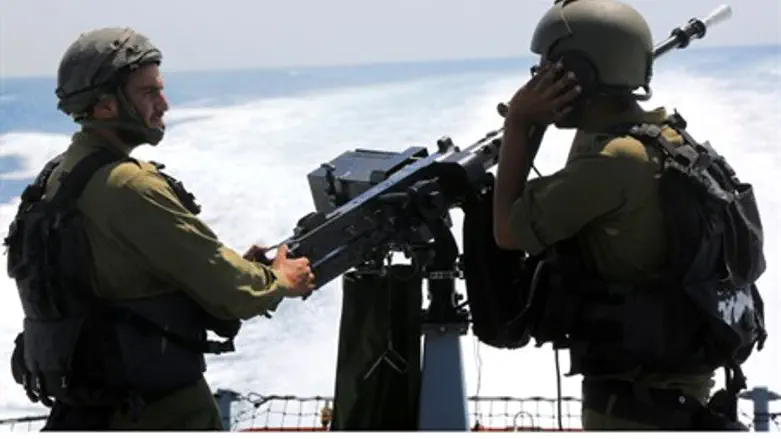 IDF Navy soldiers
Flash90
In the aftermath of Tuesday's synagogue massacre, Jerusalem is on high alert. Israeli troops were stationed outside educational institutions and kindergartens, as was as deployed to the entrances of a number of Arab neighborhoods in the capital. 
Police were instructed to tighten control over individuals exiting the neighborhoods. Checkpoints were set up for searching. However, according to Channel 2 News, searches were made on only some of those who passed by police, leading several to question the effectiveness of the checkpoints. 
Prime Minister Binyamin Netanyahu visited the Jerusalem municipality's new monitoring center, which controls a number of observation balloons scattered around the city. He vowed to continue the deterrence policy of destroying the family homes of terrorists. 
"I'm impressed at this real effort to market our abilities, both to protect and intervene in real time against attackers and terrorists," Netanyahu said, referring to the demolition of terrorist Abdelrahman Shaludi's house. Shaludi rammed his car into a group of pedestrians last month, killing two, including a 3-month-old baby. 
"We have nothing against the residents of eastern Jerusalem, but we will not tolerate attacks on our citizens and we will work against the people who carry out these things and against the inciters," Netanyahu continued. "With a firm and determined hand we will restore security to Jerusalem."
Channel 2 News reported Wednesday evening that the Director of Operations at National Police Headquarters has also agreed to allow volunteer reservist soldiers in the Navy's elite Shayetet 13 commando unit, Israel's SEAL unit, to join civil guards in Jerusalem. 
The arrangement, coordinated with police, will see 23 reserve commandos being integrated into special patrol units in the civil guard. A week-long training exercise will begin in a few days. Commandos are to become familiarized with local police operations. 
The commandos, including 5 officers, are volunteering at the expense of their own private time, in no connection to their regular reservist duties. 
Police command hopes that this exceptional display of generosity and courage will spur thousands of citizens across the country to rejoin the civil guard thereby increasing a sense of security in cities throughout Israel. 
Police inspector Ofer Shahar, an officer in the special units within the civil guard, said that following the announcement of Shayetet soldiers' plans, a number of follow-up inquiries from veterans of other elite IDF units followed. 
Jerusalem Mayor Nir Barkat said Wednesday: "We passed a very very difficult day yesterday, but we are looking forward and know that we will overcome."