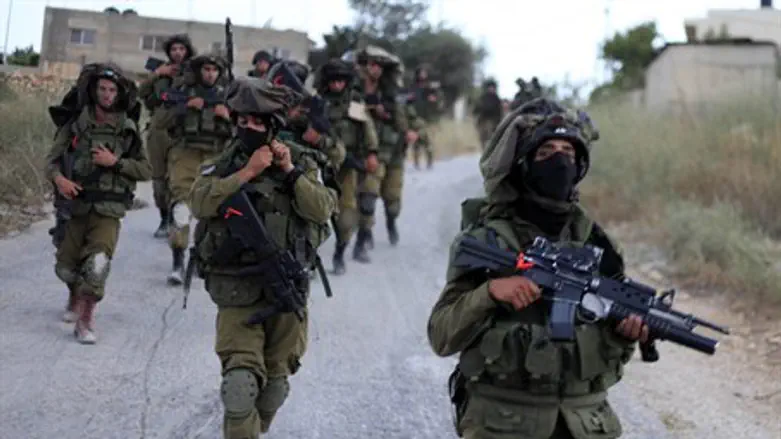 IDF soldiers in Samaria (file)
Flash 90
At around 9 p.m. Tuesday night, Palestinian Arabs reported that a Jewish boy from the town of Kochav Yaakov in Binyamin was in Palestinian police custody. 
According to the Palestinians, four boys from Kochav Yaakov went down to an Arab village to carry out a "price tag" vandalism attack. They claimed youths threw stones at several houses in the village and then following clashes with Arab youth, Palestinian Authority (PA) security forces arrived at the scene. 
The report went on to claim that three of the boys managed to escape, but one was caught by the PA. 
The report was received both by the IDF and security forces of the Binyamin Regional Council, who otherwise had no verification this event took place. 
The IDF feared the event may have actually been a kidnapping and they were prepared to enter and search villages in the area. 
Simultaneously, the community's public address system was implemented in an attempt to locate possible missing boys. Residents of Kochav Yaakov were asked to contact their families and then the Monitoring Center in the event someone was missing. 
Residents of the area with para-military skills were asked to raise awareness and ensure that no one was missing from their communities. 
Just after midnight, it was announced that things had returned to normal. It had become clear that no one was missing and that the Arab information was false. 
A little over a week ago, two Arab terrorists attempted to infiltrate Kochav Yaakov and another town in the area. After a hole in the security fence was spotted, the towns went into police lockdown. 
The two terrorists who entered the communities were found thanks to the lockdown. They clashed with the IDF; one was apprehended and transported to Ramallah for medical treatment, and a second remains at large.