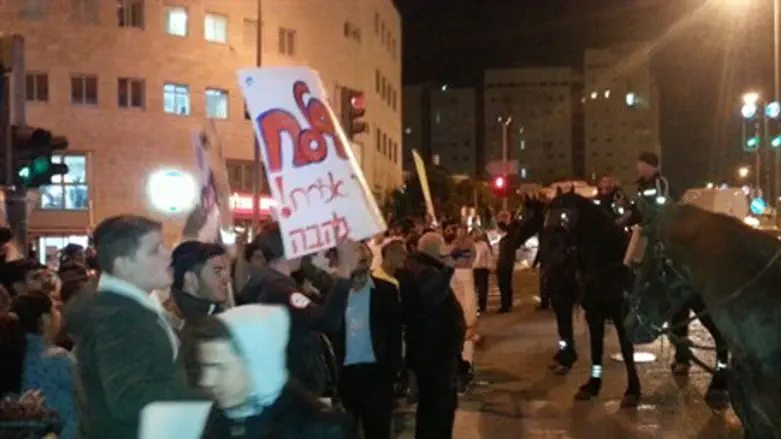 ההפגנה בירושלים
צילום: חזקי עזרא
Some 300 protesters from the Otzma Yehudit organization took to the streets of Jerusalem today in protest of this morning's terrorist massacre at a synagogue in the Har Nof neighborhood.
The demonstration took place next to the capital's iconic String Bridge close to the central bus station. Activists called for "revenge," as well as calls for Internal Security Minister Yitzhak Aharonovich to be fired for failing to deal with the ongoing and escalating Arab violence.
"Aharonovich resign, Jewish blood is not cheap!" protesters chanted.
The group then marched to nearby Yirmeyahu street and blocked traffic, and police responded by arresting six activists, including the head of the Lehava organization Bentzi Gopshtain.
Also Tuesday evening, roughly 150 people protested in Haifa, northern Israel, calling on the government to act firmly in the face of this morning's terrorist attack.
Attorney and Otzma Yehudit activists Itamar Ben Gvir condemned the conduct by police officers during the Jerusalem protest.
"The behavior of the police who wanted to prevent at any cost a demonstration against the Internal Security Minister (Yitzhak Aharonovich) is scandalous," he said. "The police acted as if Aharonovich would demote them if they didn't prevent chanting."
"Despite this, hundreds of Otzma Yehudit and Lehava activists will stand before the ministry until the (security) services abandon Aharonovich," he added.
In addition to six arrests, police injured five protesters, he claimed.