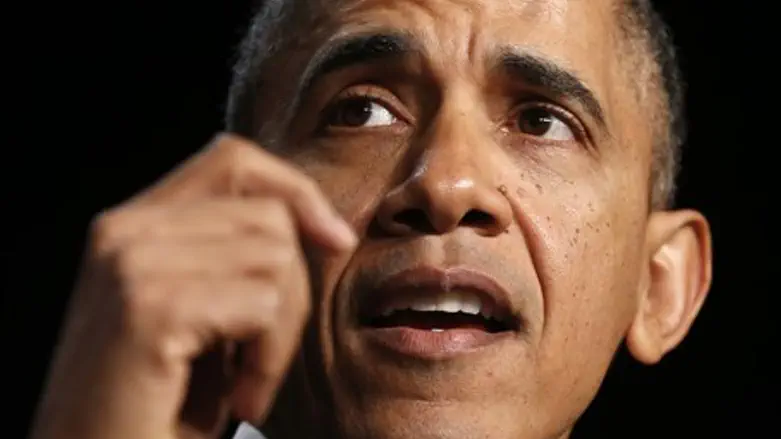 President Barack Obama
Reuters
US President Barack Obama has responded to the terror attack in Jerusalem on Tuesday, in which two Arab terrorists murdered four Jews and wounded eights others with hatchets, knives and guns as they prayed in a Har Nof synagogue.
"At this sensitive moment in Jerusalem, it is all the more important for Israeli and Palestinian leaders and ordinary citizens to work cooperatively together to lower tensions, reject violence, and seek a path forward towards peace," said Obama, reports AFP.
Obama added "tragically, this is not the first loss of lives that we have seen in recent months. Too many Israelis have died, too many Palestinians have died. Obviously, we condemn in the strongest terms this attack."
"There is and can be no justification for such attacks against innocent civilians," Obama said. "The thoughts and prayers of the American people are with the victims and families of all those who were killed and injured in this horrific attack and in other recent violence."
The four victims in the attack were Rabbi Moshe Twersky, hy"d, 'Rosh Kollel' for the 'Torat Moshe' yeshiva; Rabbi Kalman Levine, hy"d; Aryeh Kupinsky, hy"d, and Avraham Shmuel Goldberg, hy"d. 
A US State Department spokesperson in London said earlier "we can confirm that three US citizens, Moshe Twersky, Aryeh Kupinsky and Cary William Levine, were killed in the attack on a synagogue in Jerusalem."
Goldberg held British citizenship, and a spokesman for the British Foreign Office in London confirmed to AFP: "we are aware of the death of a dual British-Israeli national in Israel on 18th November."
"Rein in extremists"
Russia also condemned the attack on Tuesday, with the Russian foreign ministry releasing a statement.
"We decisively and unambiguously condemn this terrorist act," the statement read, adding "killing peaceful citizens is an inhumane crime, whatever its motivations."
In a similar vein to Obama, Russia said "we call on Palestinians and Israelis to take urgent measures to rein in extremists, whose actions threaten to explode the situation entirely."
Despite the Arab terrorism engulfing Israel, Russia called on both sides to "renew the talks process...on the established basis of international law" and to "resolve all the questions on the status of the Palestinian Territories, including finding a mutually acceptable solution to the problem of Jerusalem."