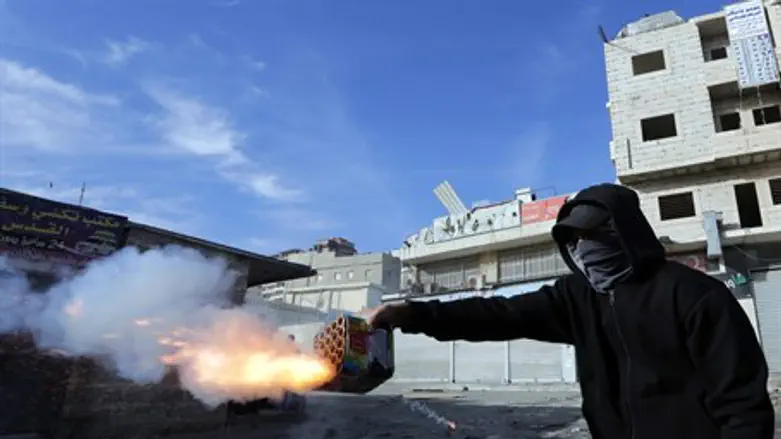 Arab rioter shoots fireworks at Israeli polic
Sliman Khader/Flash 90
An IDF officer was rushed to Hadassah Ein Kerem Hospital in Jerusalem for treatment Monday, after two fingers were amputated by Palestinian Arabs throwing fireworks at Kikar Hamoniot (Taxi Square) near Ramallah.
Roughly twenty terrorists are still in the area, throwing rocks and firebombs at security forces; riot dispersal measures are being used to disrupt the crowd.
Last week it was reported that the Central Command has decided to change riot dispersal procedures; until now, IDF soldiers were barred from opening fire against terrorists lobbing fireworks at them.
Recent changes, however, have allowed the IDF to shoot in any situation which soldiers deem a threat to their lives, in the event that they cannot defend themselves otherwise. 
"There was a clear change in the provisions concerning fireworks," said the Operations Officer of Judea Regional Brigade, Major Amir Friedman. "We started to brief the soldiers that, in the event of a life-threatening situation, they can open fire." 
A senior officer in the Central Command said that the use of fireworks - not firecrackers - should be seen as an evolving threat.
"Over the past six months, since Operation Brothers' Keeper, one can see that there is an increase in the hostile use of fireworks," he testified.
Another senior officer added, "it can be estimated that over time more and more will use fireworks in hostile terrorist activity, due to its availability and low cost."
In September, a Channel 2 report revealed that the phenomenon has led to a high number of police injuries: of the 130 recorded injuries among police forces that month from rioting in Jerusalem, at least thirty (30) were said to be from fireworks alone (23%).