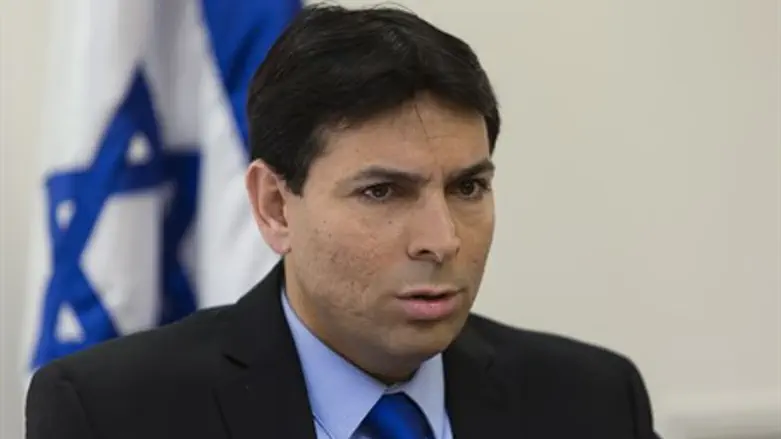 Danny Danon
Flash 90
On Monday, MK Danny Danon (Likud) will bring up for a vote in the Knesset a proposal to revoke stipends from parents whose children carried out a rock throwing attack.
The proposal comes in the wake of the continued violence in Jerusalem, much of which is perpetrated by Arab-Muslim minors.
Speaking to Arutz Sheva on Sunday, Danon said he was not worried about a fiery debate over his proposed law.
"I very much hope it will provoke a storm," he said. "We must stop this reality and if necessary impose fines on parents. Throwing rocks is attempted murder and we have to stop it."
The stipend is meant to help parents in raising their children but, as Danon pointed out, "If the child is in custody there is no reason for a parent to benefit from the stipend. After all, who pays for the child's food while he is in custody, the parents or us? Parents must know that if they do not educate their children, they will receive fines and will not receive state funding. They need to understand that we are taking off the gloves."
He clarified that "the law does not distinguish between Jews and Arabs. Anyone who throws rocks will be arrested, and their parents denied the stipend. If Jews throw rocks and are convicted they too will not receive a stipend. It is clear to us that, in most cases, minorities are involved [in the rock throwing attacks] but this law will also apply to Jews if they take part in such activities."
Rocks hurled by rioters have caused serious injury and even death in the past, particularly when targeting speeding cars. Children are particularly vulnerable to such attacks, and scores of Israeli children and infants have been wounded or killed by Arab extremists using such tactics.
MK Motti Yogev (Jewish Home) and several other MKs recently proposed a bill, similar to Danon's that would cut 50% off the child stipends received by parents of children convicted of rock throwing.
Another proposed law would have throwing rocks at a moving vehicle punishable by up to 10 years in jail, and throwing rocks at a moving vehicle with intent to injure could be punished by up to 20 years.
In addition, throwing rocks at security officers could involve a five-year sentence.