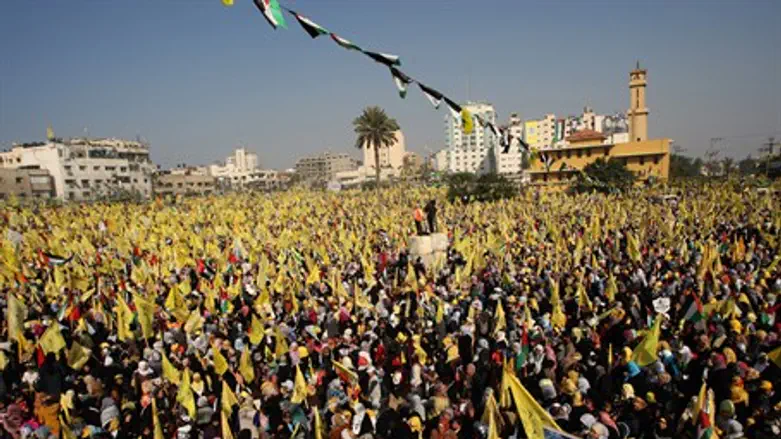 Fatah rally in Gaza (file)
Abed Rahim Khatib/Flash 90
Palestinian Authority (PA) Chairman Mahmoud Abbas recently toughened the PA law against selling property to Israeli Jews, but that was not enough for Sultan Abu Al-'Einein, a member of the Central Committee of Fatah, which Abbas heads.
The new legislation says that any Palestinian Arabs involved in renting, selling or facilitating real estate transactions with citizens of "hostile countries" in any way would receive life imprisonment and hard labor.
In a recent interview which aired on Al-Alam TV and was translated by the Middle East Media Research Institute (MEMRI), Al-'Einein called for an even tougher law, saying that Palestinian Arabs who sell land to Jews should be executed.
"There were cases of document forging when [Jews] took over some lands. Some land brokers must be killed. I call upon our Palestinian people: Anyone who sells even an inch of our Palestinian land must be killed in the streets and hanged on an electric pole," said Al-'Einein.
In the same interview, he also praised the terrorist who shot Temple Mount activist Yehuda Glick, saying, "The way to defeat the Israeli occupation is the way of the martyr Mutaz Hijazi. If the people do not fight the Israeli occupation in the way they see fit, in order to liberate their land, they do not deserve to live."