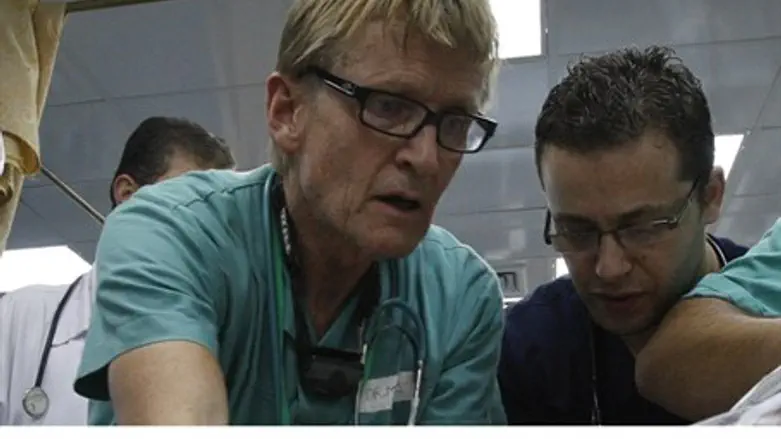 Mads Gilbert
Reuters
Mads Gilbert, a Norweigan doctor with a long record as an anti-Israel activist, has been banned by Israel from visiting Gaza for life for reasons of security after almost 30 years of frequenting the terror stronghold.
Gilbert told the Norweigan NRK that during Operation Protective Edge this summer he worked at Shifa Hospital in Gaza, which Hamas used as a hideout for its top terrorist leaders.
When he tried to return to Gaza in October to "follow up on patients" and take part in several project at the hospital, he reports being stopped.
"I was asked by the Norwegian authorities to go down to continue working in Gaza. When we arrived at the Erez Crossing, I was told by Israeli soldiers that I could not go into Gaza. I had to turn back to Norway," Gilbert told the Norweigan-language paper.
Reportedly the Norweigan Embassy in Tel Aviv is seeking recourse in Gilbert's case, and likewise he says he is considering work around plans, such as entering Gaza from Egypt.
The doctor was one of the co-editors of an anti-Israel "Open Letter for the People in Gaza" published in July in the medical journal The Lancet. The letter raised an outcry, particularly after two of the primary authors - Dr. Swee Ang Chai and Dr. Paola Manduca - were discovered to have promoted an anti-Semitic video by white supremacist David Duke.
British columnist Melanie Phillips has noted of Gilbert in the past, he "appears not to be just an ordinary doctor. He is a political activist and member of the Norwegian Maoist 'Red' party. Not only is he viscerally hostile to Israel and a long-standing activist in the Palestinian 'solidarity' movement, but he even supported the 9/11 attacks."