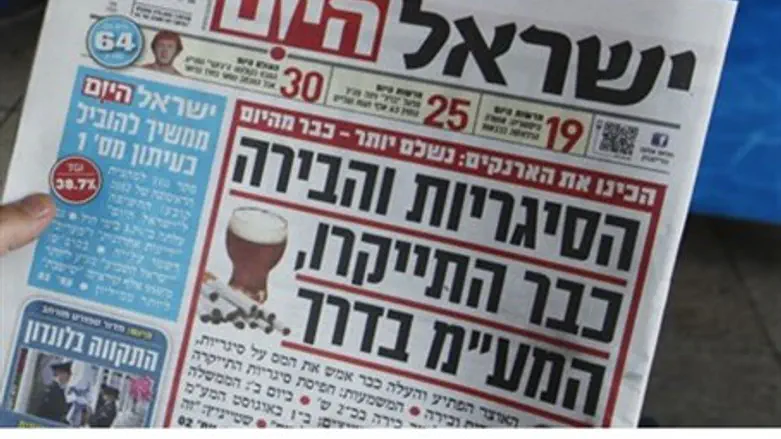 Israel Hayom
Miriam Alster, Flash 90
The Knesset plenum approved Wednesday in a preliminary vote the "Israel Hayom bill" that would shut down the nation's largest circulation newspaper, which is distributed for free. 
The bill was proposed by MK Eitan Cabel (Labor) and a group of MKs, including Ayelet Shaked of the Jewish Home.
The bill passed by a 43:23 majority and will be debated at the Knesset's House Committee, which will prepare it for the first reading.
MK Moti Yogev (Jewish Home) called the vote a shameful one for Israeli democracy.
"I am sorry, and I am ashamed that there are members of the Jewish Home faction whose names are signed on this bill," he stated. "I hope that this law will be struck down in the course of the legislation process and that we will not harm freedom of expression in Israel."
"According to these rules," he added, "we should have closed down Haaretz and Yediot Aharonot a long time ago. One shuts down a paper only if it is blatantly harming state security, or doing similarly grave things. This is a black day for democracy."
The following is a breakdown of how the different factions voted:
Of the 43 MKs who voted for the bill: 12 from Yisrael Beytenu (out of 13), 10 from Yesh Atid, 9 from Labor, 4 from United Arab List (Raam-Taal), 4 from Hatnua, 2 from Hadash, and one each from Kadima and Meretz.
Of the 23 who voted against: 11 from Likud, 7 from Jewish Home, and one each from UTJ, Kadima, Yesh Atid, Labor and Meretz.
Nine MKS (3 from Shas, 2 from UTJ, 2 from Labor, and one each from Balad and Hatnua) abstained, while another 9 (5 from Shas, 2 from UTJ and 2 from Labor) were present but did not register any votes.
A full 36 MKs were not present at the time of the vote: 8 from Yesh Atid, 7 from Likud, 5 from Jewish Home, 4 from Meretz, 3 from Shas, 2 each from UTJ, Balad and Hadash, and one each from Yisrael Beytenu, Labor and Hatnua.