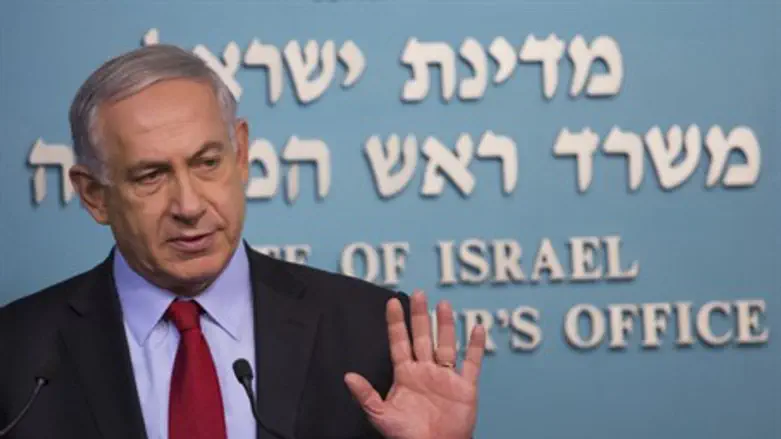 Binyamin Netanyahu
Flash 90
Prime Minister Binyamin Netanyahu made a statement on the current security situation in Israel on Tuesday, 24 hours after Palestinian terrorists killed 20 year-old IDF soldier Almog Shiloni and 26 year-old Dalia Lemkos hy"d in two separate stabbing attacks. 
"We find ourselves facing a wave of incitement and terror which we have faced since the State's establishment," he began. "We
Netanyahu stated that he would be taking steps to "increase security forces throughout Israel" to "ensure Israeli citizens' security," through coordinated efforts with the Israel Security Agency (ISA), IDF, and the Israel Police. 
The steps will include "increasing forces in the field throughout Israel," "demolishing terrorists' homes, harsh punishments for rock-throwers, Molotov cocktail and fireworks attacks, fines against the parents of rock-throwers, outlawing the parties behind the terrorism and riots in Jerusalem, and other steps." 
"Terrorism against us has no borders," he continued. "They are trying to uproot us from everywhere in the country. According to the terrorists, we don't have to be anywhere - not in Jerusalem, not in Tel Aviv, not in Gush Etzion, not anywhere." 
"They will not succeed," he continued. 
"There are also those in the field who are attempting to bring the war against ISIS - or a holy war - here," he added. "This will also not succeed."
Netanyahu then turned to the issue of PA Chairman Mahmoud Abbas, whom many MKs and public officials have cited as a wellspring for the recent incitement to violence over the past several weeks.
"We will continue to act in every way against all incitement, against all actions of terror," he said. "But unfortunately, Abu Mazen [Abbas - ed.] is not a partner in this." 
"On the contrary, Abu Mazen proved today the extent to which he is irresponsible," he continued. "Instead of easing tensions, he stirs them. Instead of telling the truth, he spreads lies." 
"Instead of directing the political path to peace, he directs it to terror," he added, directing a few scathing remarks at the international community for "condemning every porch built in the capital and drinking up Abu Mazen's lies." 
Netanyahu also urged Israeli Arabs not to follow the pressure to join in on Palestinian rioting and incitement, noting that they are "equal citizens with equal rights under the law," and that, therefore, "they must obey the law equally." 
He then concluded by expressing his condolences to the families of Monday's terror victims. 
Netanyahu's statement surfaces against the backdrop of escalating tensions in Jerusalem - which has suffered three major terror attacks in two and a half weeks - and amid concerns that Hamas has been planning a "large-scale attack" on Israeli citizens.