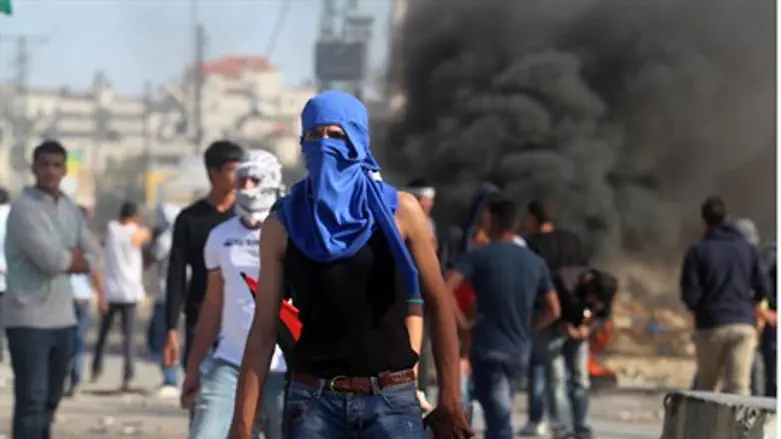 Arab rock-throwers
STR/Flash 90
Moshe German, 47, who survived a lynching attempt on the Taibe bridge Sunday night, met the man who saved him from the mob on Monday, in a heartwarming gesture of gratitude. 
Majdi Baloum, 37, pulled Moshe from his vehicle after an Arab mob began pelting it with rocks, eventually setting it alight. 
Moshe, who recounted his experience in previous interviews to the media, related that he had been hiding under his seat; if Baloum had not pulled him from the vehicle, he likely would have died in the blaze. 
Moshe revisited Taibe, meeting Baloum at the Hydraulic Institute where he works, to thank him.
"You don't understand how moving this is," German told Yediot Aharonot. "I went here via the same road where I was almost killed yesterday. I saw the remains of my car, now just ashes. Images of what happened just flash in front of me all the time. They threw rocks at me, concrete blocks and fireworks. I was terrified." 
"I thought about my wife, Eina, and my sons Roey (16) and Eitan, who is two and-a-half," he continued. "I thought my family would lose me." 
"I tried to hide in my Toyota, but the crowd continued to attack me, and in a moment [Baloum] came up to me yelling, 'come, come!'. I tried to figure out who is calling me, and you pulled me out of your car and into your Jeep. You saved me," Moshe recounted. "I found it hard to comprehend what is happening, but I realized that you were afraid for my life. Even though they threw blocks at your Jeep, you just went faster." 
"Did you understand that you were saving my life?" he asked. 
Baloum, who is a father of five, replied warmly. 
"Calm down," he reassured Moshe. "Friend, you and I are the same. If I were in trouble, wouldn't you help me?" 
He also recounted his version of events. 
"I saw a lot of young people milling around, trying to shoot the fireworks [at German], throwing blocks and rocks. I stood there for a long time, I saw lots of masked men, and I realized something bad was going to happen here," he said. "When I saw they threw at your car large amounts of blocks and heard fireworks explode, I realized soon that you would have no chance to survive and that you needed to be rescued, and fast. I rushed to you in my Jeep." 
"I saw you trapped in the car," he continued. "I knew there was no time to lose. You were in mortal danger. I opened the door of your car and told you to leave, shouting 'Come to me, come on, I'll get you out of here!' I remember your face and hands were full of blood. You were afraid, probably not understanding what was happening, and I shouted to you, 'Come quickly, come to my jeep. I will save you, come!' Your car began to burn, and then you entered my Jeep and we drove to the Police."
"I'm glad I could save your life and return you [home to] your family," he added. 
Baloum added that, as far as he is concerned, the gaps between Israeli Arabs and Jews are small.
"We live in one country," Baloum emphasized. "Let's hope the violence would stop already."
"I hope this is the last incident like this, where [terrorists] try to harm someone."