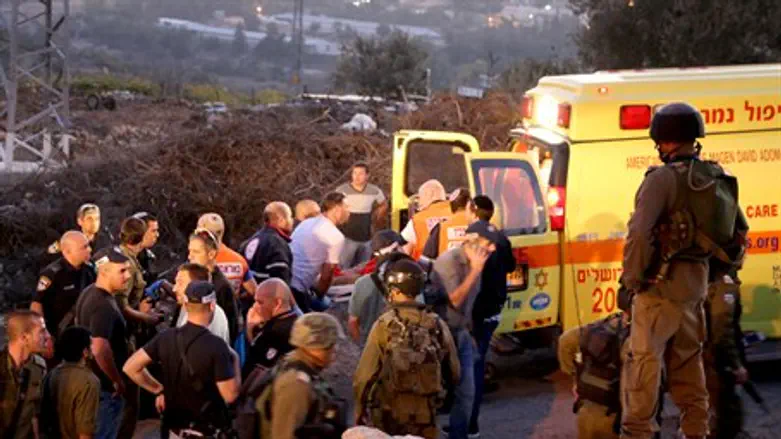 Medics evacuate the injured after Gush Etzion
Gershon Elinson/Flash 90
The United States on Monday condemned the two stabbing attacks in Tel Aviv and in Gush Etzion, while urging both Israelis and Palestinian Arabs to ease rising tensions.
"We strongly condemn the stabbing today in the West Bank, and we deeply regret the loss of life," State Department spokeswoman Jen Psaki said, in a statement made before soldier Almog Shiloni, who was critically wounded in the Tel Aviv attack, died of his wounds.
"Our condolences go out to the victim's family. It is absolutely critical that parties take every possible measure to protect civilians and de-escalate tensions," added Psaki.
26-year-old Dalia Lemkos from Tekoa has been identified as the murdered victim of the attack in Gush Etzion.
She was stabbed to death and two other people were wounded in the terrorist attack which took place at a hitchhiking station outside the town of Alon Shvut in Gush Etzion.
Israeli officials have reacted strongly to the two terrorist stabbing attacks, with MKs calling on Prime Minister Binyamin Netanyahu to truly fight Arab terrorism.
Deputy Transportation Minister Tzipi Hotovely (Likud) said the attacks illustrated how "terrorism does not differentiate between Jerusalem and Tel Aviv. A wave of Arab terrorism is spreading throughout the country and with it the loss of personal security. He who abandons the sovereignty of the Temple Mount gets terrorism all over Israel in response."
Housing Minister Uri Ariel (Jewish Home) said that Palestinian Authority Chairman Mahmoud Abbas, together with the Palestinian "terrorist government" are "inciting the Arab public to murder innocent Jews" and that "security forces are busy containing the rage" instead of decisively stamping out terrorism.
"I demand that the Prime Minister release the handcuffed hands of security forces and allow them to dash to pieces the head of the snake," he forcefully added.